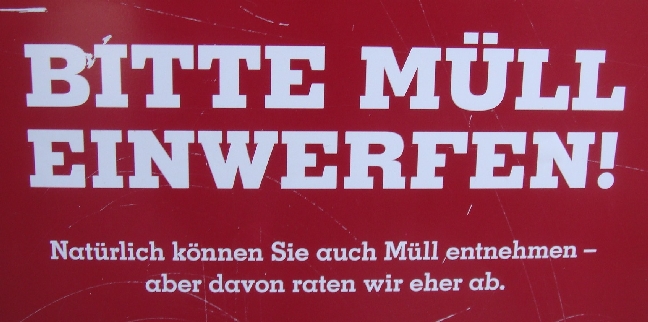 Sehr geehrte Damen und Herren,
Ihre Rechnung vom 28.07.2011 weise ich mit Empörung zurück.
Ende Juni 2011 nahm ich zu Asus Kontakt auf und habe einen Garantiefall gemeldet. Dieser wurde mir per email bestätigt und ich wurde aufgefordert, meinen Rechner an Sie zu senden. Ich habe eine rasche Reparatur und eine umgehende Rücksendung des Gerätes erwartet. Statt dessen passierte erstmal gar nichts. Erst auf mein Nachfragen erhielt ich dann Kostenvoranschläge, die ich zurückgewiesen habe.
Offensichtlich unfähige oder korrupte Mitarbeiter versuchten, dies auch noch zu rechtfertigen. So schrieb mir zum Beispiel Diese E-Mail-Adresse ist vor Spambots geschützt! Zur Anzeige muss JavaScript eingeschaltet sein!: "Der Schaden an dem Gerät (...) ist passiert nicht nur vom rumstehen sondern durch stärke Einwirkung von Aussen." Ja, glaubt dieser Intelligenzbolzen von Mitarbeiter dann allen Ernstes, dass mobile Rechner ausschließlich und dauerhaft rumstehen? Wenn eine Firma wie Asus nicht in der Lage ist, Rechner zu bauen, die normalen Beanspruchungen gewachsen sind, beispielsweise durch mangelhaft ausgeführte Diplays, so ist der Hersteller verpflichtet, hier Abhilfe zu schaffen. Oder erhält Herr Janssen eine Erfolgsprämie für abgewimmelte Garantieansprüche? Dreist ist auch der oberschlaue Mitarbeiter Diese E-Mail-Adresse ist vor Spambots geschützt! Zur Anzeige muss JavaScript eingeschaltet sein! der mir schreibt: "bei diese Gerät liegt ein Displaybruch vor und das Garantielabel wurde beschädigt." (Fehler im Original). Ja, genau, der Displaybruch erfolgte bei üblichem normalen Gebrauch und bei diesem normalen Gebrauch ist das Display gebrochen. Hier liegt ein Mangel vor, wegen dem ich meine Garantieansprüche geltend mache. Das Garantielabel wird hier als weiterer Vorwand benutzt. Selbstverständlich habe ich das Recht, auf dem Gerät irgendwelche Aufkleber zu entfernen. Auf jeden Fall habe ich keine Eingriffe in das Gerät vorgenommen, die meine Garantieansprüche zu erlöschen bringen.
Ich verstehe ja, dass technisch ungenügend ausgeführte Displays, die bei normalem Gebrauch zu Bruch gehen, etwa beim Transport, schlecht sind für das Image von Asus und dass das Beheben dieser Mängel die Profite der Firma senkt. Aber das gibt ASUS keinen Grund, meine berechtigten Garantieleistungen abzuwimmeln, die erforderliche Durchführung der Garantieleistung zu verschleppen und zu vertrödeln sowie Mitarbeiter zu beauftragen, mir dummdreiste Ausreden zu präsentieren, um die Garantieleistung dann schließlich ganz zu verweigern und darüber hinaus auch noch die Kosten für Ihr Missmanagement mir überhelfen zu wollen.
Aus diesen Gründen spreche ich Ihnen gegenüber eine Abmahnung aus. Ich fordere Sie hiermit auf, ihm Rahmen Ihrer Garantieleistung einen weiteren Versuch zu unternehmen, das Gerät wieder in einen ordnungsgemäßen Zustand zu versetzen.
Ich erwarte umgehend eine Mitteilung, an wen ich das Gerät schicken soll für einen erneuten Reparaturversuch. Ihre Rechnung weise ich zurück! Sollten Sie meiner Aufforderung nicht entsprechen, werde ich meinen Anwalt konsultieren, mich beim Gewerbeaufsichtsamt in Berlin und Brüssel sowie bei der Stiftung Warentest über Sie beschweren und darüber hinaus Ihr Verhalten in geeigneter Weise öffentlich machen.
Mit freundlichen Grüßen
s.
http://www.teleservice.com/teleservice_departments_germany.php
---
Im Oktober 2010 kaufte ich mir einen Rechner der taiwanesischen Firma ASUS, die genaugenommen Asustek Computer heißt. Die Firma macht einen Jahresumsatz von etwa 15 Milliarden Euro. Das Modell hat die Bezeichnung eee – pc, und steht für den Werbespruch "Easy · Excellent · Exciting" (einfach, exzellent, aufregend) bzw. "Easy to Learn, Easy to Work, Easy to Play. Geht ein Gerät aber mal kaputt, ist nichts mehr easy. Dabei habe ich mit dem Rechner gar nichts besonderes gemacht, ausser es von Termin zu Termin in meinem Rücksack mit mir rumzutragen und zu verwenden.
Der Konzern Asustek Computer Inc. (WKN: A1C04V) ist reich genug: Er steigerte im ersten Quartal 2010 die Umsätze auf 73,905 Mrd. New Taiwan Dollar (2009: 32,916 Mrd. NT-Dollar) deutlich. Das operative Ergebnis stieg deutlich auf 3,461 Mrd. NT-Dollar nach 1,396 Mrd. NT-Dollar im Vorjahr. Auch konnte Asustek das Ergebnis je Aktie auf 5,54 NT-Dollar nach 1,15 NT-Dollar im Vorjahr steigern. (Quelle: it-times).
---
Nach mehr als zwei Jahren erhalte ich am 31.10.2013 erneut Post von ASUS. Soeren R. schreibt mir:
Sehr geehrter s.
Auf Ihrem unter www.drstefanschneider.de öffentlich zugänglichen Weblog üben Sie deutliche Kritik am Kundenservice der Firma ASUS Computer GmbH, nennen in diesem Zusammenhang die tatsächlichen Namen von diversen Mitarbeitern der ASUS und/oder ihren Dienstleistungspartnern und belegen diese mit Begriffen wie "oberschlau" oder "Intelligenzbolzen".
Wir bedauern, dass Sie offensichtlich unzufrieden mit unserem Kundenservice sind und werden Ihre Kritik aufgreifen. Allerdings müssen wir uns entschieden gegen die namentliche Nennung von Mitarbeitern auf Ihrem Weblog wenden, noch dazu in einer Weise, die zwischen Schmähkritik und Beleidigung liegt. Durch die Indizierung der Inhalte Ihres Weblogs durch Suchmaschinen werden die Namen dieser Mitarbeiter in der öffentlichen Wahrnehmung des Internets fest mit diesen Äußerungen verbunden. Jeder Mensch hat jedoch ein Recht auf Achtung seiner Privatsphäre, die er von seinem beruflichen Leben trennen darf. Dies gilt auch für ASUS Service-Mitarbeiter. Demgegenüber ist nicht ersichtlich, dass diese Namensnennungen für die Zwecke ihrer Meinungsäußerung in irgendeiner Weise erforderlich sind.
Wir müssen Sie daher auffordern, zumindest die Nennung der Namen zu entfernen.
Grade von Ihnen als Sozialwissenschaftler dürfen wir Verständnis dafür erwarten, dass insbesondere die Persönlichkeitsrechte nicht-leitender Angestellter schutzwürdig sind. In der Hoffnung auf eine solche Einsicht treten wir in dieser informellen Weise an Sie heran und nicht etwa im Wege einer kostenpflichtigen Abmahnung mit Aufforderung zur Abgabe einer strafbewehrten Unterlassungserklärung.
Sollten die Namensnennungen jedoch nicht bis zum 10. November von Ihrer Webseite entfernt worden sein, so werden wir uns schon aus Gründen des Arbeitsschutzes zwingend dazu veranlasst sehen, die Löschung auf dem Rechtswege durchzusetzen.
Mit freundlichen Grüßen / Kind regards
Sören R.
---
Am 17.11.2013 erhält der Mensch von mir folgende Antwort:
Sehr geehrter Herr R.,
vielen Dank für Ihre email vom 31.10.2013. Bitte entschuldigen Sie, dass ich erst jetzt dazu komme, mich mit ihrem Anliegen zu befassen. Ich freue mich sehr über die Resonanz, die mein kleiner Betrag in Ihrem Unternehmen gefunden hat. Inhaltlich muss ich jedoch den Vorwurf, es handele sich bei den von mir verwendeten Begriffen "oberschlau" sowie "Intelligenzbolzen" um Schmähkritik oder sogar um Beleidigung, deutlich zurückweisen. Da ich vorher im Beitrag präzise benenne, auf welche konkreten Sachverhalte sich meine Wortwahl jeweils bezieht, handelt es sich hier bestenfalls um eine zusammenfassende Charakterisierung aufgrund der Erfahrungen, die ich mit Ihren Mitarbeitern habe machen dürfen. Und dass ich die Verhaltensweisen Ihrer Mitarbeiter bewerte, müssen diese schon aushalten können.
Ich möchte gerne in einer Welt leben, in der Menschen auch verantwortlich zu dem stehen, was sie tun. Dass das in Ihrem Unternehmen offensichtlich nicht gelten und jede noch so offensichtliche Unverschämtheit anonym bleiben soll, sagt einiges aus über Ihre Unternehmenskultur. Ich kann daraus nur die Schlussfolgerung ziehen, dass das Abwimmeln von berechtigten Garantieansprüchen offenbar Teil Ihres Geschäftsmodells ist, das auch von der Unternehmensleistung so vertreten wird. Unter dieser Voraussetzung ist die Nennung einzelner Namen von Mitarbeiter_innen durchaus überflüssig.
Zum Schluss möchte ich Ihnen ein großzügiges Angebot unterbreiten: Schicken Sie fünf funktionierende neue Netbooks an den Verein zur Förderung unabhängiger Kultur e.V. in der Frankfurter Str. 253 in 38122 Braunschweig, und ich erkläre mich bereit, unverzüglich nach dem Eintreffen der Rechner die von ihnen kritisierte Seite vom Netz zu nehmen.
Mit freundlichen Grüßen
s.