Zur Verabschiedung von Dr. Peter Szynka in den Un-Ruhestand am 15.12.2017 in Hannover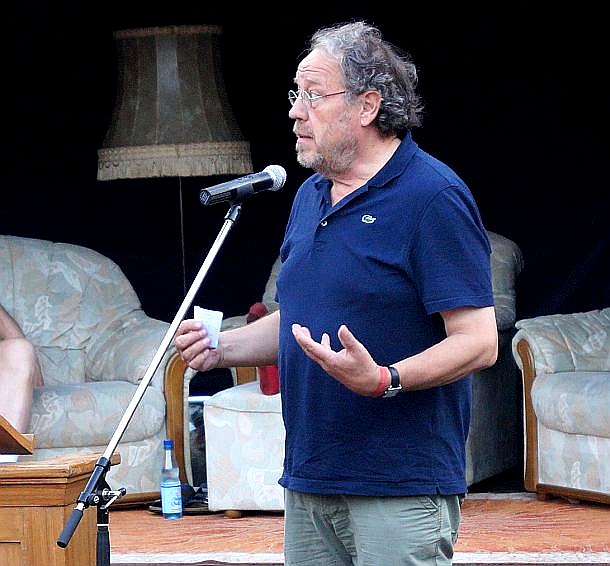 Dr. Peter Szynka traf ich das erste Mal mehr oder weniger zufällig im Juni 2014 in Freistatt, Niedersachsen anlässlich einer Mitgliederversammlung des vor kurzem gegründeten Armutsnetzwerks. Wir hatten kaum Zeit, miteinander zu reden, aber er versprach, sich bei mir zu melden. Monate später erhielt ich eine email mit einer Einladung nach Hannover zum Diakonischen Werk Niedersachsen, wo er als Fachreferent für die Wohnungslosenhilfe arbeitete.
Nicht ohne einen gewissen Stolz betonte er, dass seit ein paar Jahren Teilhabe als wichtiges Ziel in der Satzung des Diakonischen Werks Niedersachsen verankert sei. Es war zu spüren, dass ihm das wichtig war.
Peter - davon hat er immmer wieder erzählt - war mehrfach für längere Zeit in Chicago gewesen, wo er sich intensiv mit der vom amerikanischen Bürgerrechtler Saul Alinsky entwickelten Methode der Gemeinwesenarbeit beschäftigt hatte. Er hat sogar seine Doktorarbeit darüber geschrieben (Szynka 2005).
Was damals ein innovativer Ansatz war, randständige Interessen kämpferisch im politischen Raum zur Sprache zu bringen, ist heute – zugespitzt formuliert - ein mehr oder weniger halbseidenes Verfahren der Verwaltung zur Bürgerbeteiligung bei umstrittenen Vorhaben. Und trotzdem ist der innovative Ansatz nicht vollständig verschwunden – bis heute sind Menschen in der Tradition von Saul Alinsky unter dem Stichwort "Community Organizing" unterwegs, und von denen konnten wir einiges lernen.
Auch von der Chicagoer Schule der Soziologie berichtete Peter. Der amerikanische Soziologe Nels Armstrong hatte in den 20er Jahren des vergangenen Jahrhunderts kurzerhand wohnungslose Menschen – in den USA Hobos genannt – an die Hochschule eingeladen, um mit ihnen ins Gespräch zu kommen (Anderson 1923). Für einige wenige Jahre gab es - wenn der Überlieferung zu trauen ist - in Chicago so etwas wie ein Hobo – Institut, an dem wohnungslose Menschen ein- und ausgingen und gleichberechtigt mit anderen Wissenschaftlern Lehrveranstaltungen organisierten. Eine Idee, die auch heute noch ihre Sprengkraft hat.
An jenem Tag in Hannover aber ging es im Gespräch darum, welche Formen der Teilhabe wohnungsloser Menschen entwickelt werden könnten, um die Angelegenheit voranzubringen. Ich brachte den Gedanken der Sommercamps ins Spiel, den ich vor einigen Jahren bereits zusammen mit Jürgen Schneider (damals noch vom Berber-Info) einmal angedacht hatte (Schneider 2011)
In diesem Gespräch haben wir die Idee vom Sommercamp zusammen mit seinem Chef, Martin Fischer, hin und herbewegt, und dann brachte Peter mich und Jürgen Schneider in Kontakt mit Frank Kruse, dem Bereichsleiter der Wohnungslosenhilfe von Bethel im Norden am Standort Freistatt. Wieder einmal Freistatt.
Gemeinsam saßen wir, Peter, Jürgen, Frank und ich – ein klassissches multidisziplinäres Team - ein paar mal zusammen – und bastelten an einem Konzept für einen Antrag.
Der Rest Geschichte – oder soll ich sagen Legende: Aus dem Projekt zur Förderung von Teilhabe und Selbstorganisation wohnungsloser Menschen in Niedersachsen (Empowerment, Community Organizing, Sommercamps, Verstetigung), das im Mai 2016 ist inzwischen, Stand Dezember 2017, die Selbstvertretung Vereinter Wohnungsloser entstanden. Diese steckt zwar noch sehr in den Anfängen, aber mit ein wenig Optimismus und gutem Willen ist darin der Anfang einer wirklich großen Sache zu erblicken. Eine Sache, die größer ist als das Interessen von Einzelnen.
Ich könnte noch einiges mehr erzählen, aber es ist vielleicht auch gar nicht wichtig, alles das an die Öffentlichkeit zu bringen, was Peter im Verlauf seiner beruflichen Tätigkeit alles auf den Weg gebracht hat. Das meiste kenne ich auch gar nicht. Ich glaube, dass liegt daran, das Peter nie großspurig auftritt, sondern eher eine klammheimliche Freude an den Dingen hat, die sich entwickeln und wo er seinen Anteil hatte. Diese Freunde finde ich, dürfen wir ihm lassen.
Und das ist im Grunde auch schon eine Zusammenfassung dessen, wie ich Peter erlebt und was ich an ihm wertgeschätzt habe: Ein vorsichtig optmistischer Mensch mit gutem Willen und dem Interesse, Dinge in Bewegung zu bringen, die ein ein bisschen größer sind als das, was ein Mensch allein schaffen kann. Einer, der die Welt ein bisschen besser hinterlassen will als er sie vorgefunden hat.
Ganz im Sinne von Saul Alinski, der gesagt hat: "Schaut, ihr müsst das nicht hinnehmen; ihr könnt was dagegen tun. Ihr könnt Jobs kriegen, ihr könnt all die Schranken durchbrechen, die euch am Leben hindern. Aber ihr müsst Macht dazu haben, und diese Macht bekommt ihr nur, wenn ihr euch organisiert. (Alinsky, 1999, zit. in Rabe, 1999, S.1). Gerechtigkeit, das wird in diesen Worten deutlich, war ein starker Motor für Saul Alinsky und ist auch ein starker Moter im Engagement von Peter Szynka.
Peter, wenn Du am vom Diakonischen Werk in den Ruhestand gönnen wir Dir das von ganzem Herzen. Und gleichzeitig hoffen wir, dass diese Entlassung eine Entlassung in den Unruhestand ist, denn: Wir brauchen Dich noch. Wenigstens für zwei Dinge:
Zum einen wollen wir für die Selbstvertretung Vereinter Wohnungsloser noch eine passende Organisationsform finden, die Geld heran schafft. Da können wir Deine Erfahrung und Deine Kontakte noch hervorragend brauchen.
Und zweitens hast Du uns selbst aufmerksam gemacht auf die National Hobo Convention, die jedes Jahr am zweiten August-Wochenende in Britt, Iowa, USA stattfindet. Natürlich müssen die wohnungslosen und ehemals wohnungslosen Menschen, die Du im Projekt Wohnungslosentreffen zusammengebracht hast, da hin, denn, wie wir inzwischen herausgefunden haben: Armut kennt keine Grenzen und nur wer sich über Grenzen und Ozeane hinweg zu organisieren versteht, das haben wir von Dir gelernt, kann etwas erreichen. Und da Chicago nur 382 Meilen von Britt entfernt ist, müssen wir natürlich auch nach Chicago. Und wer anders als Du könntest unser Reiseleiter sein? Also, Ruhestand hin oder her, dieses Projekt machen wir noch fertig – finden wir.
In diesem Sinne, Peter, glaube, ich, dass ich im Namen von vielen Menschen herzlichen Dank sagen darf für vieles, was Du geschaffen hast durch Dein Engagement, dass ich Dir im Namen von vielen Menschen einen schönen neuen Lebensabschnitt wünschen daruf und zugleich aber auch sagen darf, dass wir die Hoffnung haben, dass Du uns ein bisschen erhalten bleibst.
Danke und alles Gute und bis bald!
Stefan Schneider
Literatur
Anderson, Nels: The Hobo. The Sociology of the Homeless Man. University of Chicago Press, Chicago 1923.
Schneider, Stefan (2010): Sommer-Camp wohnungsloser und armer Menschen 2011. Eine Projektskizze (http://www.drstefanschneider.de/782-homeless-summer-camp-2010.html)
Szynka, Peter (2006): Theoretische und empirische Grundlage des Community Organizing bei Saul D. Alinsky. (1909–1972). Eine Rekonstruktion. Akademie für Arbeit und Politik der Universität Bremen, Bremen 2005 (erschienen 2006), ISBN 3-88722-656-9 (Bremer Beiträge zur Politischen Bildung 3; zugleich: Bremen, Univ., Diss., 2005).