Ich höre, dass am Donnerstag, den 26.09.2013 Menschen von Ordnungsamt Treptow-Köpenick auf das Vereinsgelände vom WLS e.V. gekommen sind, um sich nach der melderechtlichen Situation eines Vereinsmitglieds zu erkundigen.
Das hat mit Wassersport und den Zielen und Zwecken unseres Vereins nichts tun. Ich gehe davon aus, dass alle Mitglieder des Vereins sich gemäß den Regeln so verhalten können, wie sie es für richtig halten und dass wir über Konflikte offen spechen. Dass wir wir Regelungen aufstellen, wie das Zusammenleben funktionieren kann. Dass wir Probleme in offener Diskussion ansprechen und gemeinsam lösen. Was hat das Ordnungsamt damit zu tun? Wer hat das Ordnungsamt informiert und warum? Was soll das? Welches wirkliche Problem steht da hinter? Wie soll das weiter gehen?
Wird in Zukunft das Bezirksamt informiert, wenn es keine Einigkeit über die Liegeplätze unserer Sportboote gibt? Werden Rechtsanwälte engagiert, wenn ein Teil der Mitglieder etwas gegen andere Mitglieder durchsetzen wollen? Kommen in Zukunft Steuerfahnder auf das Vereinsgelände, wenn Beiträge nicht gezahlt werden oder weil nicht klar ist, wie ein Mitglied seinen Sport finanziert? Wird es Abmahnungen geben, wenn ein Mitglied etwas tut, was anderen nicht gefällt? Wird die Psychiatrie informiert, wenn es Mitglieder gibt, die tagsüber schlafen und immer nur nachts segeln? Wird in Zukunft die Polizei gerufen, wenn es Streitigkeiten gibt über die Nutzung des Geländes, der Kabinen oder wer wann auf dem Gelände ist und wer welchen Besuch bekommt oder was auch immer? Werden in Zukunft Kameras installiert, die überwachen, was aus dem Gelände passiert und wer sich wie bewegt?
Ich möchte in einem solchen Verein nicht Mitglied sein. Ich glaube nach wie vor, dass wir als Verein eine so überschaubare Gruppe sind, dass wir Dinge untereinander und mit demokratischen Mitteln klären können. Und ich glaube auch, dass die Grundlage unseres Vereins Vertrauen ist und nicht Mißtrauen.
Anders gesagt: Wir sind eine Interessensgemeinschaft von ganz unterschiedlichen Menschen, die Wassersport betreiben. Damit unsere Gemeinschaft funktionieren kann, müssen wir einander vertrauen, miteinander reden und gegenseitig unsere Interesen offen legen (Transparenz).
Das Ordnungamt kommt nicht ohne Not auf unserem Vereinsgelände vorbei. Es gibt gute Gründe anzunehmen, dass ein Mensch vom WLS hier aktiv das Ordnungsamt gerufen hat, mit welcher Motivation auch immer. Mir ist völlig egal, was das Ergebnis dieser Überprüfung war. Ich möchte dem Menschen, der das Ordnungsamt angerufen hat, um etwas über ein anderes Mitglied zu ermitteln, sagen:
Dein Handeln ist schäbig, Deine Motivation ist niederträchtig, ich verachte Dich!
Es muss der freiheitliche und demokratische Grundsatz gelten, dass jedes Mitglied sich – solange sich niemand anderes gestört fühlt – sich so verhalten kann, wie er oder sie es für richtig hält. Ich kann kein Problem darin erkennen, wenn ein Mitglied ständig auf dem Vereinsgelände anwesend ist, wenn aus einem Sport ein Lebensmittelpunkt wird. Ich sehe sehr wohl ein Problem darin, wenn ein Vereinsmitglied der Meinung ist, es sei notwendig, Ordnungsbehörden zu informieren, um interne Fragen zu lösen. Wer so denkt, hat in diesem meinem Verein nichts zu suchen. Meine Überzeugung ist: Das kann und wird niemals kein Weg sein, um Konflikte beizulegen.
Fair Winds,
Berlin, 05.10.2013
Stefan Schneider
Quelle: https://commons.wikimedia.org/wiki/File:Chinese_honor_guard_in_column_070322-F-0193C-014.JPEG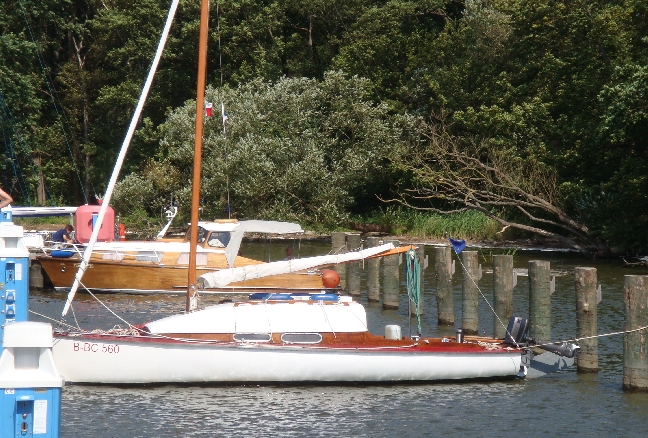 Baujahr 1970. Holländischer Werftbau. Solides Wander-, Touren- und Expeditionsboot. Bestens geeignet für Berliner, Brandenburger und Mecklenburger Gewässer, auch geschützer Küstenbereich wie Haff und Bodden. Zum Einhandsegeln bestens geeignet. Kompositbauweise: Rumpf und Kajütdach GFK, Innenausbau Holz.
Ausrüstung
Hauptanker Edelstahl und Ankerleine 30 Meter
Zweitanker schwerer Stockanker und Ankerleine 20 Meter
Ankerball
2 Festmacherleinen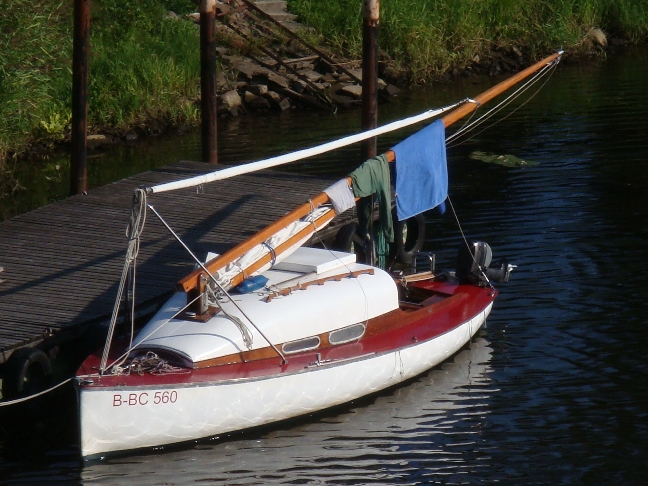 Großsegel mit Segelzeichen (Sonnenauge) und Reffreihe
Fock
Genua
Leitschienen Pfeiffer mit verstellbarem Holepunkt für Fock und Genua
Fockschot
Großschot
Kajütdach – Handläufe aus Holz
Mastlegevorrichtung mit
Jütgabel Edelstahl
Talje
Maststütze Edelstahl
Rollreffanlage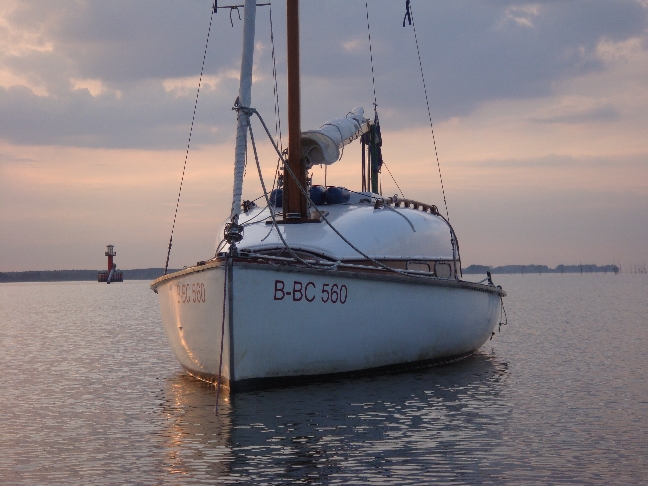 Gel-Batterie 72 Ah
Landstromanschluss CEE mit FI-Schutzschalter und Sicherung sowie Steckdose
20 Meter CEE Ladekabel für Landstromanschluss
Adapterkabel CEE - Schuko
Batterieladegerät WAECO Perfect Charge IU1512
Radio Rankforece SD 3023 mit USB – Anschluß und 4 Lautsprechern
2 x Zwei-Wege-Lautsprecher Kajüte
2 x Drei-Wege-Lautsprecher Plicht
Sicherungsschalttafel für
Positionslichter
12 Volt Steckdosen
Kajütbeleuchtung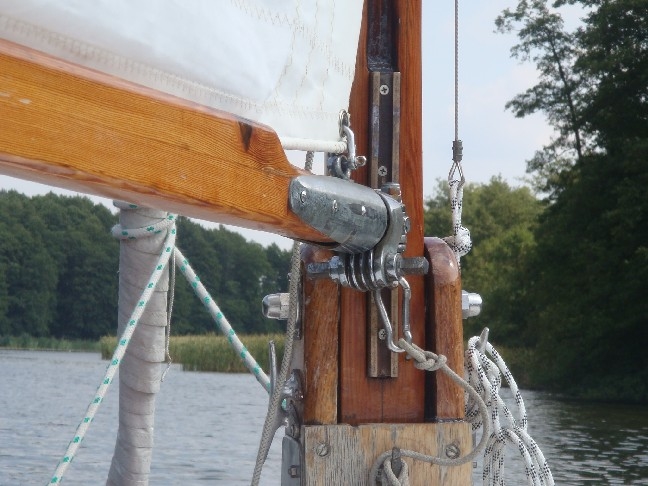 Positionslichter Marke Lopolight
Backbordlicht rot,
Steuerbord grün,
Hecklicht weiss und
Dampferlicht weiss
LED Licht Kajüte einzeln schaltbar:
Lampe Backbordkoje,
Lampe Steuerbordkoje,
Lampe Pantry (über Herd)
Lampe vorderer Kajütbereich
2 x 2 Steckdosen 12 V Kajüte (Backbord und Steuerbord)
1 x 2 Steckdosen 12 V Plicht
1 Handpumpe für Bilgenwasser
Kujüt-Schrank mit 3 Einlegefächern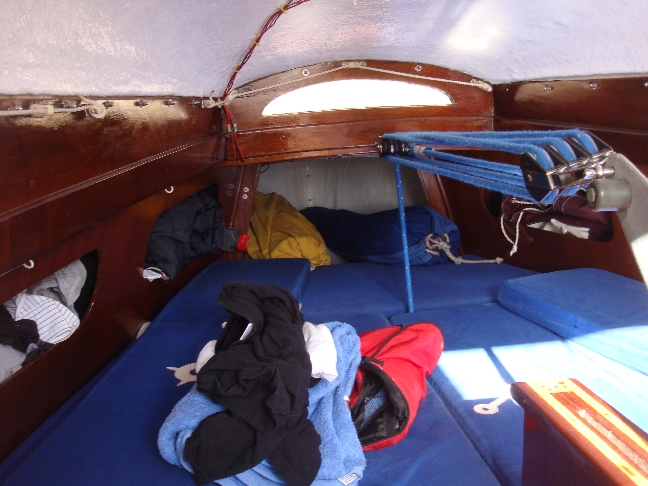 Küchenschrank mit hinreichend Stauraum
2 flammiger Gasherd
Gasschlauch mit Druckregler
3 Gasflaschen
2 Festmacher mit Ruckdämpfern achtern
1 Festmacher mit 2 Ruckdämpfern vorne
Schwert, gesandstrahlt und feuerverzinkt,
Schwertfall mit Flaschenzug, aus der Pflicht bedienbar
9 Kajütpolster im maritimen Stil (Blau mit Anker / Rettungsring) als Sitz- und Liegefläche
Schwertkasten (erneuert)
Plichttisch mit Stütze
Feuerlöscher
Verbandskasten
Kompass mit separater Kompasshalterung in Kajüte
Traveller mit Feststellschiene
1 zentrale Winsch
Pinne mit Pinnenausleger
Ruder mit Ruderblattaufholer
Badeleiter
Rettungsring
1 Holzpaddel
1 Bootshaken Alu
5 PS Aussenbordmotor Tohatsu Langschaft einschließlich Zubehör
Motorhalterung Edelstahl
12 Liter Tank mit Füllstandanzeige
Einfülltrichter mit Sieb
Tankschlauch mit Pumpball und Rumpfdurchlass
10 Liter Tankkanister
durchgehende Stoßkante Edelstahl
4 Pfänder blau
1 Kuchenbude rot
1 Winterplane 8 x 4 Meter
2 Winterlagerböcke mit Metallverstärkung
nicht verschweigen möchte ich drei Mängel:
die 5 Kajütfenster sind milchig und könnten erneuert werden
die Kuchenbude ist altersschwach und macht nicht mehr sehr lange
Abnutzungsspuren im Plichtbereich.
Abgesehen davon ist das Boot uneingeschränkt einsatzbereit.
Liegeplatz im Verein kann ggf. übernommen werden
Preisvorstellung: 5.600 €
liEinfülltrichter mit Sieb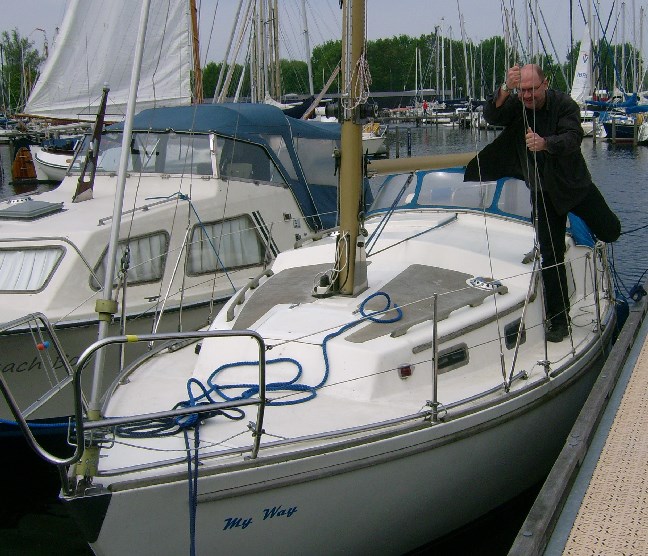 [Recherchen] Im Sommer 2012 wurde mir klar: Wenn ich schon von einem größeren Boot träume, dann muss ich diesen Traum auch bald mal in die Tat umsetzen. Also begann ich mich nach Booten vom Typ Fellowship 28 umzusehen, der Bootstyp, den ich im Auge hatte. Dafür bin ich im Februar 2013 sogar nach Amsterdam geflogen – weil es in der Nähe vom Ijsselmeer gleich zwei zu besichtigen gab. Intuitiv war mir sofort klar, dass ich das Boot in Naarden nehmen würde. Es war das billigste Boot von allen fünf, die ich im vergangenen Herbst und Winter insgesamt inspiziert hatte. Die Substanz war gut, und natürlich würde ich in ein gebrauchtes Boot zu investieren haben: Früher oder später neue Segel (vor allem bei Starkwind wird das wichtig), und vor allem in eine moderne Bootselektrik mit Positionsleuchten auf LED-Basis, ebenso eine gute helle Beleuchtung für die Kajüte, dazu ein Radio mit USB-Anschluss und gehörig laute Boxen, zur Versorgung mit frischem Strom Solarpaneele und ein Windgenerator nach dem Flettner-Prinzip, um für mehrere Tage in Bezug auf elektrische Energie autonom zu sein. Vielleicht perspektivisch ein Schlepp-Generator, um beim Ankern im Fluss oder bei sehr langen Törns noch weitere Enegie zu gewinnen. Das alles würde kosten und ich würde es sowieso tun.
[Übergabe] Mit dem Verkäufer wurde ich schnell einig. Er kam mir preislich entgegen. Die Kommunikation verlief per email über den Brooker, und Ende Februar 2013 war der Deal perfekt. Die eigentliche Übergabe erfolgte zu Pfingsten. Zu meiner Überraschung erschien kein älterer Mann, wie ich das nach dem Zustand es Bootes erwartet hätte – nach dem Motto: "Ich bin langsam zu alt für den Segelsport!" -, sondern ein junger Mann Ende zwanzig, der alles sehr locker sah. Nach der Übergabe war das Boot nun meins, und die Liegeplatzpreise im Jachthafen Naarden (bei Amsterdam) machten mir klar, dass es vernünftig war, das Boot so bald wie möglich nach Deutschland zu bringen. Das war ja ein Vermögen, was das kostete.

[Tourplanung] Von Naarden in Holland nach Berlin kam im Grunde nur eine Route (mit einer Variante) in Frage. Über die Nordsee wollte ich nicht. Ich wollte nicht ohne hinreichende Erfahrung auf einem Tidengewässer wie dem Wattenmeer segeln mit einem Boot, das ich noch nicht kannte. Und die Variante auf dem Rhein gegenan Richtung Ruhrgebiet kam auch nicht in Frage, denn gegen einen starken Strom gegenan zu motoren ist eine sehr unerquickliche Sache. Aber da gab es noch die Route über Ter Apel und den Haren-Rütenbrock-Kanal, die von Groningen über Kanäle auf halbem Weg zum Dortmund-Ems-Kanal führte. Von dort aus weiter über den Mittellandkanal und den Havelkanal nach Berlin – das war klar. Dass es am Ende doch der Weg über die Ems wurde, hatte nicht zuletzt mit den positiven Erfahrungen auf dem Maerkermeer zu tun.
Erste Etappe: Naarden - Enkhuizen - Stavoren - Groningen - Dellfzijl - Emsmündung - Ems - Herbrum - DEK - Meppen (5 Tage)

[Entscheidung] Ein neues Boot: Aus prinzipiellen Gründen wollte ich es auf dem Wasserweg in seinen neuen Hafen bringen. Trailern ohne einen eigenen Strassentrailer ist teuer und nicht sexy. Ausserdem erfährt mensch so wenig über das Boot. Also der Wasserweg. Aber auf einem großen Gewässer wie dem Ijsselmeer segeln? Das war, so zeigte sich wenige Tage vor dem Starttermin mit Blick auf die Wetterprognose, vielleicht keine gute Idee mit einem fremden Boot. Die Entscheidung fiel vor Ort. Es waren 4 Beaufort angesagt, mit Spitzen in 5 oder 6, aber gegenan. Und aufkreuzen ist eine mühsame Angelegenheit. Also keine Segel anschlagen sondern motoren, und die Segelerfahrungen verschieben auf die Zeit in Berlin. Mir war auch bald klar, dass es Sinn machen würde, eine Begleitung zu haben. Jutta war schnell zu begeistern und so fuhren wir zusammen mit dem Zug zum Schiff.
[Maerkermeer] Je weiter wir rauskommen von Naarden aufs Maerkermeer, desto höher die Wellen. Der Wind kommt direkt von vorn und wir schaukeln gut bei annähernd 5 Windstärken [1]. Dankbar bin ich, dass wir eine Sprayhood haben, denn ab und an fliegt die Gischt über das Boot und ich muss mich abducken. Scheiße, es regnet rein!, schreit Jutta plötzlich. Ich bekomme einen Schreck, bitte Jutta ans Steuer und gucke mir die Sache persönlich an. Das Vorluk ist undicht und mit jeder heftigen Welle, die über Deck spült, kommt ne kleine Ladung rein. Es ist nicht viel und wir werden nicht sinken. Aber die Liegepolster sind schon klatschnass und am Ende des Tages werde sich sicher drei oder vier Eimer Wasser aus der Bilge holen müssen. Schöne Scheisse. Ich erinnere mich, dass der Eigner was davon gemurmelt hat, dass die Schrauben vom Vorluk nachgezogen werden müssten.
[Enkhuizen] Nach der Schleuse bei Enkhuizen ist Schluß für heute. Die Schleuse für Sportboote ist gar nicht mal die Schleuse in Stadtnähe, wie wir anhand der Karte [2] dachten, sondern die große mit der Bezeichnung Naviduct etwas weiter aussen. Der Hub von 20 cm bereitete keine Probleme und die Schleuse war auch groß genug.
Mir schien es sicherer zu sein, die Marina von Enkhuizen [Compagnieshaven] anzulaufen als den kleinen Stadthafen. Heute, rückblickend betrachtet, würde ich den Stadthafen anlaufen. Wie auch immer, ich traute mich nicht, die vielen Stege des sehr gefüllt wirkenden Hafens abzufahren, ich war noch immer unsicher am Steuer des neuen Bootes. Deshalb war ich heilfroh, noch ganz außen einen Liegeplatz gefunden zu haben. Der Weg zum Hafenbüro war gefühlt einen halben Kilometer lang, der Sportboothafen war einfach riesig. Wir machten eine Stadtbesichtigung und nutzen die Toiletten. Am nächsten Morgen machte ich mich nochmals auf den langen Weg zum Hafenmeister: Für ein paar Brötchen, einmal Klo und zum Zahlen der Liegegebühr. 17 € wurden mir abkassiert. Ich hatte genug Zeit, auf dem langen Weg zurück zum Boot darüber nachzudenken und kam auf die Idee, dass 17 € für eine Nacht Boot anbinden und dreimal Scheißen [3] doch ein bisschen viel sind.
[Ijsselmeer und Sneekermeer] Der Weg über das Ijsselmeer war deutlich einfacher als der Trip am Tag zuvor. Etwas weniger Wind, etwas mehr Sonne, und dazu einige Schiffe, die einen ähnlichen Kurs hatten. Lediglich bei der Frage, wo genau wir Richtung Stavoren abzubiegen hatten, waren Jutta und ich uns uneins. Ausnahmsweise hatte ich mal Glück mit meiner Annahme. Die bevorstehende Schleuse und das große Gedränge verursachten bei mir einige Anspannung, aber mit ganz viel Ruhe gelang uns das Schleusen deutlich besser als den größeren Crews. Die Steueranlage des Bootes ist nicht ganz einfach. Diese Doppelschaltung führt dazu, dass sich mit dem Ein- und Auskuppeln des Vorwärts- und Rückwärtsganges auch der Gashebel bewegt. Deshalb ist der Motor und damit verbunden der Antrieb nicht zu einfach zu kontrollieren und mir fehlte schlichtweg die Übung. Das Steuern unter Motor braucht viel Kraft, und Jutta versuchte es kurz auf den Kanälen hinter Stavoren, und ließ es fortan bleiben.
Segelkameraden erzählten mir, dass in den Niederlanden am Wochenende nicht geschleust würde und wenn, dann wäre recht früh am Nachmittag Feierabend. Auf der Suche nach einem Liegeplatz fuhren wir gegen 19 Uhr an einem Sonntag auf eine Brücke zu und siehe da, sie öffnete sich. Gegen halb acht hatten wir einen ganz hervorragenden Liegeplatz auf einer nahezu leeren neuen Marina auf einer Insel eines Sees nahe Sneek. Das also war geschafft.
[nach Groningen] An die Fahrt nach Groningen habe ich kaum noch Erinnerungen. Ich glaube, es war im wesentlichen Kanalfahrt mit ein paar Brücken. Bei einer Brücke, die nicht öffnen wollte, ermittelten wir die Durchfahrtshöhe bei gelegtem Mast. Das waren keine zwei Meter, also weniger als bei meinem Jollenkreuzer. Stimmt, an diesem Tag hatte ich den Mast gelegt. Die Einfahrt in den Hafen vom Motorjachtclub von Groningen war ein wenig eng, aber wir hatten dann einen guten Liegeplatz. Wir hatten Hunger und mussten auch noch einkaufen, deswegen machten wir einen Ausflug in die Stadt. Das wenige was ich sah, sagte mir, dass ich hier noch mal hinkommen sollte. Gegen 21:00 Uhr fand ich noch einen offenen Supermarkt am innerstädtischen Marktplatz und unser Abendessen bestand aus einer ganz hervorragenden Reis- bzw. Nudelpfanne. Ja, sagte Jutta, die Holländer, die können das!
[nach Ems – wo ist die Flut] Seit Tagen diskutierten Jutta und ich Details unserer Route. Mein Vorschlag war, über Ter Apel und den Haren-Rütenbrock-Kanal zum Dortmund-Ems-Kanal zu fahren. Das war eine sichere Variante, hatte aber den Nachteil, dass unzählige Brücken und nicht weniger Schleusen zu bewältigen waren, dass die Kanäle wenig Tiefgang hätten und unklar wäre, wieviel Zeit wir darauf verbringen würden. Jutta schlug dagegen vor, auf den großen Kanälen ins nahegelegenee Delfzijl fahren, von dort aus über die Emsmündung an Emden vorbei in die Ems zu fahren. Diese Variante war etwas weiter, hatte aber deutlich weniger Schleusen und Brücken. Meine Bedenken bezogen sich auf die Strömung des offenen Tidengewässers und auf die See, die wir antreffen könnten, wenn Wind gegen Strom steht. Aber der Wetterbericht war günstig, nur mäßige Winde. Dies und die Erfahrung, wie gut sich das neue Boot auf dem Maerkermeer bei 5 Beaufort verhielt, ermutigten mich, dem Vorschlag von Jutta zu folgen.
[Gegen den Ebstrom] Laut Ebbe- und Flutkalender aus dem Internet sollte in Delfzijl gegen 14:30 Uhr Ebbe sein, danach – so schlußfolgerte ich - würde der Flutstrom einsetzen. Also fuhren wir Punkt 14:30 Uhr bei Delfzijl auf die Emsmündung und in das Fahrwasser, und danach entlang der Betonnung Richtung Emden. Von einem Strom war nicht viel zu merken. Aber, als wir drei Kilometer vor Emden standen, setzte gegen 16:30 Uhr ein heftiger Ebbstrom, der unser Vorankommen deutlich abbremste. Irgendwas in meinen Überlegungen muss da wohl falsch gewesen sein. Auf jeden Fall kamen wir eine gute Stunde lang nur sehr langsam voran. Erst auf Höhe des Emssperrwerks änderte sich das.
[mit der Flut] Etwa dort, wo die Ems begann, wie ein richtiger Fluß auszusehen, setzte plötzlich die Flut ein und das war heftig. Wir waren schnell unterwegs und rasten von Tonne zu Tonne. Rechts und links am Ufer konnten wir Einfahrten zu kleinen Häfen sehen, in denen die Boote allesamt im Schlick lagen. Häfen, die sich nur bei Flut erreichen ließen. Mit sowas hatte ich gar keine Erfahrung. Warten beim Einlaufen, bis das Wasser hoch genug steht, das ist schon klar. Aber dann: Festbinden und immer weiter Schräglage und im Schlick versinken? Egal, da wollen wir nicht hin und eines Tages würde ich es schon herausfinden, oder auch nicht.
Meine Rechnung war, die erste Schleuse des Dortmund-Ems-Kanals [Schleuse Herbrum] noch zu erwischen und das gelang dann auch. Ich hatte einfach keine Lust auf einen Hafen mit Tidenhub und die Aussicht, zu einer bestimmten Zeit nur auslaufen zu können. Kurz hinter der Schleuse in einem Seitenarm war dann auch ein Festmacher und ein Hotel [Emsblick], wo wir zur Feier des Tages Schnitzel Pommes und Fisch vertilgten. Zu feiern war nicht nur, dass alle schwierigen Abschnitte des Törns jetzt hinter uns lagen, sondern auch der Geburtstag des Skippers.
In Erinnerung blieb mir vor allem die bizarr wirkende Landschaft eines kleinen Flusses mit Tidenhub. Sand neben dem Flußbett, eine in das Land laufende schnelle Strömung, ein aufgeschotterter Rand vom Flussbett und dahinter eine karge grüne Landschaft und gelegentlich richtig fette Frachtkähne. Das war schon eigenartig.
[Meppen] Am nächsten Tag und nach vielen Schleusen war das Etappenziel Meppen erreicht. Die Liegegebühr war hier deutlich niedriger als in Naarden und ein gutes Drittel des Törns lag hinter uns. Ich war doch doch sehr dankbar, dass der Motor es unter diesen Bedingungen durchgehalten hatte, denn das war meine größte Sorge. Dass der Motor schlapp macht und wir mitten auf dem Ijsselmeer sind oder sonst irgenwie im Nichts. Was ich bei solchen Ängsten immer wieder vergesse ist der Umstand, dass wir ja nie zivilisierte Kulturlandschaft verlassen. Warum wir das aber trotzdem Sorgen bereitet, naja, das ist eine andere Frage.
Meppen hatte ich aus einen anderen Grund noch sehr gut in Erinnerung. In meiner Schüler- und Studentenzeit war ich engagiert in der KSJ, der Katholischen Studierenden Jugend, und damals gab es regelmässige Treffen der Stadtgruppen aus Berlin, Hamburg, Hannover, Münster und eben Meppen. Und die Leute aus Meppen waren bekannt als die trinkfesteste Stadtgruppe der Welt. Ob ich jemals in Meppen war oder nicht, kann ich aus diesen Gründen gar nicht mehr sagen, und selbst, wenn ich da gewesen sein sollte, habe ich wohl überwiegend in Glas geguckt, statt mir Meppen anzusehen. Aber das ist eine andere Geschichte.
Zweite Etappe: Meppen - Dortmund-Ems-Kanal - Schleuse Bewergen - Mittellandkanal - Bad Esen - Hannover - Wolfsburg (4 Tage)

[Verschwundenes Boot] Tage später erreichte ich nach einer langen Zugfahrt gegen Mitternacht wieder den Jachthafen Meppen für den zweiten Abschnitt des Überführungstörns. Ich hatte mir die Tastenkombination für das Eingangstor gemerkt und tappste mich bei spärlicher Nachtbeleuchtung in Richtung Boot. Nur, das war nicht da! Dort, wo wir es Tage vorher am Gästesteg festgebunden hatten, war kein Boot mehr. Für einen Moment rutschte mir das Herz in die Hose, aber dann wurde mir klar: Das Boot ist nicht weg, es ist nur woanders. Ich blickte mich um und entdeckte zwei Stege weiter etwas, was aussah wie mein Boot und das war es dann auch. Dass ich für eine gute Woche liegen würde, hatte ich vorab mit dem Hafenmeister klar gemacht, und natürlich hätte ich damit rechnen müssen, dass ich rangiert werde, vor allem, wenn der Gästesteg für weitere Einnahmen gebraucht wird.
Der Hafenmeister war irgendwie dankbar, mit mir plauschen zu können und so unterhielten wir uns über dies und das. Vielleicht nötigte es ihm auch Respekt ab, dass ich Einhand unterwegs war. Meine größte Sorge jedenfalls waren die zahlreichen Schleusen die mir bevor standen und die ich alleine zu bewältigen hatte. Das sagte ich ihm natürlich nicht, aber vielleicht ahnte er es. Auf jeden Fall kam er kurz vor meiner Abreise mit einem riesendicken Pfänder an, den er mir schenkte und höchstpersönlich Backbord vorne festmachte. Denn die Backbordseite, soviel war mir inzwischen klar geworden, würde meine bevorzugte Anlegeseite beim Schleusen sein. Und bis zum Mittellandkanal – einer Art Schiffsautobahn quer durch Deutschland, würden es noch einige sein.
[Schleusen – Einhand] Wenn ich das Schiff aufstoppe, das heißt, vom Vorwärtsgang in den Leerlauf schalte und dann einen guten Schub rückwärts gebe, schlägt das Heck meines Schiffes nach Backbord [für Nicht-Schiffer_innen: Die linke Seite des Schiffes] aus. Das nennt mensch Radeffekt und den kann mensch sich zu nutze machen. Also überlegte ich mir, bei Schleusen die Backbordseite zu wählen, denn wenn ich langsam an die Schleusenwand heranfahre und mich dort an einem Poller oder einer Stange festmache will, kann es nur von Vorteil sein, wenn ich durch das Aufstoppen noch näher an die Schleusenwand komme (statt umgekehrt). Ausserdem legen die meisten Leute an der anderen Seite an, so dass beim Schleusen damit zu rechnen ist, dass ich gut einen freien Platz erwischen kann. Auch habe ich mich entschlossen, mit nur einer Leine zu schleusen, die ich in etwa mittschiffs unten an einer Relingsstütze befestigt habe. Damit habe ich schon bei meinem Jollenkreuzer gute Erfahrungen gemacht, und im Prinzip funktioniert das auch bei meinem neuen Kielboot.
Bemerkenswert – ich greife hier vor – war das Schleusen in Anderten bei Hannover im Mittellandkanal. Da war so ein Hamburger Skipper, der irgenwelchen Funk abhörte und so mächtig erfahren tat. Er konnte es kaum erwarten, direkt hinter dem Frachtschiff in die Schleuse einzufahren und hatte im Schraubenwasser mächtig Probleme, vor allem auch, weil die Freundin, die er kommandierte, nicht so recht verstand, was genau er denn wollte. Ich konnte das aus der Entfernung genüßlich beobachten, wie er mit dem Boot hin und her tanzte und in Streß geriet. Als ich mich 30 Sekunden später näherte, war der Spuk vorbei, der Frachter inzwischen fest und der Motor aus. Ich konnte in Ruhe aufstoppen, hatte keine Mühe, mein Festmacherseil um den Poller zu schlingen und das Schleusen konnte beginnen. Dass die Leute nie kapieren, dass das Wasser ein ganz eigenes Tempo vorgibt und dass es nichts bringt, auf dem Wasser besonders schnell sein zu wollen.
Mittellandkanal
[Wo bitte ist der Sprit?] Das Boot hat einen Tank, der 35 Liter fasst. Das wusste ich aus dem Katalog. Der Motor wird mit einem Verbrauch von 1,6 Litern auf 10 Kilometern angegeben. Der vorige Eigner sagte mir, dass es keinen Sinn macht, besonders schnell fahren zu wollen. Das würde nur den Dieselverbrauch in die Höhe treiben und nicht sehr viel mehr an Geschwindigkeit bringen. Es mässiges Tempo sei das Beste. Ich kalkulierte den Dieselverbrauch. Für die Gesamtstrecke von gut 900 Kilometern würde ich gut 150 Liter Diesel brauchen. Vorausgesetzt, die Angaben stimmten. Nun wollte ich weder den Tank komplett leer fahren noch alle zwei Tage tanken. Also brachte ich weitere zwei 20-Liter-Kanister mit an Bord, so dass ich eine Gesamttankmenge von 75 Litern hatte. Das sollte wenigstens für mehr als 400 km reichen. Und im übrigen rechnete ich mit mehr Verbrauch als angegeben. Gerade Verkäufer geben gerne die Werte günstiger an als sie tatsächlich sind. Bis Meppen reichte die Menge locker, und dort füllte ich zum Start des zweiten Törnabschnitts die Bestände auf und machte den Haupttank nochmal randvoll. Bisher, so war mein Eindruck, bewegte sich der Verbrauch innerhalb des kalkulierten Rahmens.
Das Motoren auf dem Mittellandkanal langweilte mich. Du kannst während der Fahrt ja mal den Tankstand prüfen!, dachte ich mir. Die Tankfüllanzeige – auch das zeigte mir der vorige Eigner noch – bestand aus einem etwa 70 cm langen Holzstab. Dieser wird in den Tank gesteckt und dann herausgezogen. An der Länge der benetzten Fläche lies sich dann ablesen, wie viel oder wie wenig Diesel noch im Tank ist. So tat ich also und bekam einen gehörigen Schreck. Ich war keine 80 km mit dem vollen Tank gefahren und demnach müsste der Tank mehr als zu zwei Dritteln gefüllt sein. Tatsächlich zeigte mir der Stab aber an, dass kaum mehr als ein Drittel im Tank war. Ich musste also mächtig Diesel verlieren. In meiner Panik legte ich an und schüttete weitere 20 Liter aus dem Kanister in den Tank. Hilfe, ich habe ein Problem!
Ein paar Monate vor diesem Törn hatte ich mir vorsorglich ein Buch besorgt über die Wartung von Diesel – Schiffsmotoren. (Ein ähnliches Buch aus der Reihe "Jetzt helfe ich mir selbst" hatte mir damals bei meinem alten R4 [Auto] nützliche Dienste geleistet. Aber das war mehr als zwanzig Jahre her.) Das hätte ich mal besser gelassen, denn nicht nur, dass die Autoren des Buches einen recht seltsamen Humor haben, die Schilderung der Dinge, die kaputt gehen könnten, gleicht einem mächtigen Gruselkabinett. Wahrscheinlich dadurch bin ich zu einem wahren Motorschäden-Hypochoder geworden. Ich hatte panische Angst vor plötzlichen Ausfällen. Anders gesagt, nach der Lektüre dieses Buches wunderte ich mich, warum Bootsdiesel überhaupt funktionieren.
[Entlüftung] In Bad Essen angekommen, stellte ich das Boot Kopf. Irgendwo musste eine undichte Stelle sein. Im Tank, im Tankschlauch oder irgendwo im Motor. Ich entdeckte eine große Lache an Diesel-Wasser-Gemisch unterhalb des Motors, die ich erstmal abpumpte und in Kanistern entsorgte. Was für eine Sauerei. Aber am Motor selber fand ich keine Spuren, und entlang den Tankleitungen auch nicht. Langsam kam mir eine Idee ... Natürlich inspizierte ich auch während des Törns alle möglichen Stellen am Boot, guckte in jedes Schapp, in jede Luke und versuchte zu verstehen, was da war und warum. Und vorgestern war das Süll im Cockpit an der Reihe, weil ich überlegte, ob ich dort Lautsprecher einbauen könnte. Und da ist mir doch dieser dünne Schlauch aufgefallen, an dem ich zog. War das die Entlüftung vom Tank? Habe ich durch meine Veränderung der Schlauchposition aus der Entlüftung eine kommunizierende Röhre gemacht? Konnte es sein, dass ich tankte und dann automatisch über diesen Entlüftungsschlauch eine ganze Menge Diesel in die Bilge abfloss? Das wäre eine logische Erklärung für den erheblichen Dieselverlust im Tank. Ich drückte diesen kleinen Schlauch also wieder in das Süll zurück und machte mir ein Memo, dass ich erstens den Tank nie wieder randvoll füllen dürfe und dass ich zum anderen mich einmal grundsätzlich mit dem Thema Tankentlüftung befassen müsste. Im Verlauf des Törns prüfte ich noch sehr oft den Tankinhalt und stellte dann keine auffälligen Abweichungen mehr fest. [In Berlin angekommen, inspizierte ich den Bereich nochmals und stellte fest, dass es neben der Leitung zum Motor und der Rückführung noch eine Dritte Leitung ab, die ins Nichts führte. Diese Leitung war feucht und offensichtlich entwich auch von hier weiterer Diesel. Ich entfernte diese Leitung und bekam den Tank erst dicht, nachdem ich in einem Kreuzberger Schraubenfachhandel eine passende Schraube mit Feingewinde – ich wusste bis dato auch nicht, dass es sowas gibt – besorgt hatte mit einer dazugehörigen Unterlegscheibe aus Kupfer. Aber das ist eine andere Geschichte.]
[Wolfsburg – Bahnhof] Das Ziel der zweiten Überführungsetappe war Wolfsburg. Aus einem sehr einfachen Grund. Von diversen Zugfahren wusste ich, dass der Mittellandkanal direkt am Bahnhof verläuft und das Kartenmaterial zeigte mir, dass dort ein Liegeplatz war. Also hoffte ich inständig, dort noch einen Liegeplatz zu finden und von dort aus schnell nach Berlin gelangen zu können. Denn meine Mutter, die ich pflegte, wollte ich nicht allzu lange alleine lassen. Dass mit dem Liegeplatz am Bahnhof war dann auch so, nur die Idee mit der schnellen Zugverbindung nach Berlin war eine Milchmädchenrechnung. Durch das Elbehochwasser war die direkte Zugverbindung nach Berlin unterbrochen. Ich musste wieder zurück nach Braunschweig und von dort aus gab es einen umgeleiteten und verspäteten Zug über Magdeburg nach Berlin. So hatte ich mir das nicht vorgestellt. Mehr als drei Stunden später als geplant kam ich Hauptbahnhof an. Das einzig Positive war, dass mir die Bahn wegen der Verspätung dann einen guten Teil der Fahrtkosten ersetzen musste.
Dritte Etappe: Wolfsburg - Mittelland Kanal - Kanalbrücke Elbe - Elbe-Havel-Kanal - Brandenburg (Stadt) - Havel - Teltowkanal - Dahme - Schmöckwitz (3 Tage)

[Wolfsburg – warum ist die Batterie alle?] Tage später komme ich spät abends mit dem Zug in Wolfsburg an und freue mich über den kurzen Weg zum Boot. Routinemässig mache ich dann immer einen Probestart mit dem Motor und war völlig fertig. Der Motor startet nicht, die Anlasser röchelt einmal kurz und danach geht nix mehr. Wieder Panik. Erst das Problem mit dem Tank, jetzt das Problem mit Batterie und Anlasser. Scheisse, Scheisse. Mir schiesst durch den Kopf: Wenn ich einen Experten kommen lassen muss, wird das schnell etliche Scheine kosten. Und es ist nicht so, dass ich beliebig viele davon hätte. Aber ich hatte noch eine Chance. Es gab ja noch die zweite Batterie an Bord, und die musste noch randvoll sein.
Am nächsten Morgen hole ich Diesel, Milch und Brötchen und mache mich sofort ans Werk. Die Starterbatterie wird abgeklemmt und die andere Bordbatterie angeschlossen. In angespannter Erwartung mache ich einen Startversuch und der Diesel kommt. Auch noch ein zweites und ein drittes Mal. Alles klar, ich kann losfahren.
[Kanalbrücke Elbe – warum startet der Motor nicht?] Also setze ich meine Reise fort, passiere noch eine Schleuse und komme dann zur Brücke des Mittellandkanals über die Elbe. Und an dieser Elbquerung sollen Sportboote anhalten und mit der Leitzentrale sprechen, wann sie fahren können, denn der Verkehr über diese Brücke ist jeweils nur in eine Richtung zulässig und wird von einer Zentrale gesteuert. Es ist vielleicht 17 Uhr, ich kann noch eine Weile fahren. Ich hole mir das Okay, loszufahren, gehe auf mein Schiff, möchte die Maschine starten und es passiert: Nichts. Kleinlaut kehre ich zum Sprechstand zurück und sagte, dass aus meiner Passage vorerst nichts wird und ich mich melden würde, wenn es weiter ginge. Das ist jetzt richtig Scheiße. Die Starterbatterie startete gestern abend nicht, und die heute früh ersatzweise eingebaute Batterie jetzt auch nicht mehr. Wo ist der ganze Strom hin?
[Ferndiagnose] Ich bin wirklich am Ende. Erst der Schock mit dem Tank vor ein paar Tagen, dann der Motor, der gar nicht starten will, jetzt auch nicht mit der zweiten Batterie. Ich bin noch mehr als 200 km von Berlin entfernt und sehe nicht, wie ich nach Hause kommen soll ohne funktionierenden Motor. Mein Vertrauen in den Motor ist auf Null. Was ist denn los? Warum geht die Batterie alle? Ach, es ist doch alles Scheiße. Erst verliere ich Diesel, und jetzt habe ich Probleme, den Motor überhaupt zu starten. Selbstzweifel kommen in mir hoch. Hätte ich dieses Schiff doch bloß nicht gekauft und wäre bei meinem Jollenkreuzer geblieben. Den hätte ich zur Not noch paddeln können. Aber dieses große Schiff mit dem großen alten Dieselmotor, der rumzickt? Und es ist so lästig, andere Leute um Hilfe bitten zu müssen. Ich mag es nicht, diese Abhängigkeit. Ich rufe Torsten an. Der hat von allem ein wenig Ahnung. Aber auch er kann mir nicht auf Anhieb sagen, woran es liegen könnte. Naja, im Motorraum fliegen unzählige Strippen und Kabel rum. Nicht alle haben eine Funktion und bei anderen ist mir völlig unklar, welche Funktion sie haben. Der Voreigner sagte mir, dass er das so gelassen hätte. Denn wo schon mal ein Kabel verlegt ist, müsse kein neues verlegt werden. Überhaupt hatte er in mancherlei Hinsicht seltsame Ideen. So gibt es in der Kajüte einige Instrumente und Anzeigen, die offensichtlich nicht mehr funktionieren, aber trotzdem im Schiff verblieben sind. Seltsame Vorstellungen von Historizität. Das Telefonat mit Torsten bringt mich auch nicht wirklich weiter. Aber ich habe noch eine Chance. Ich habe mir von meinem alten Boot meine Gel-Batterie mitgebracht für die improvisierte Bordstromanlage (im Wesentlichen für das Licht in der Kajüte). Denn die Elektrik funktionierte, ausser zum Zeitpunkt der Übergabe, auch nicht auf diesem Boot. Das war meine letzte Chance. Wenn das nicht funkioniert, würde ich das Boot stehen lassen und externe Hilfe organisieren müssen. Also noch einmal Arbeit im Motorraum. Ich klemme meine Gel-Batterie, die ich eigentlich für diese Zwecke gar nicht verwenden wollte, an den Motor an und mache eine Start. Es klappt.
Sofort klemme ich die Verbindung wieder ab, um nicht unnötig Strom zu verlieren, auf welchem geheimnisvollen Weg auch immer. Es ist inzwischen spät geworden und ich beschließe, das Wasserkreuz zu erkunden. Von oben blicke ich auf die Elbe und werde morgen über sie hinweg fahren. Rechts und links am Ufer sind noch die Spuren des Hochwassers deutlich erkennbar. Es ist ein graubrauner, inzwischen getrockneter Schlick, der sich überall festgesetzt und einiges verwüstet hat. Der Motor muss nur noch zweimal starten, morgen und übermorgen, und dann bin ich zu Hause. Denn längst mache ich den Motor im Verlauf des Tages nicht mehr aus, sondern lasse ihn laufen, auch in der Schleuse. Denn wieder liegen zu bleiben und den Motor nicht mehr starten zu können, das möchte ich nicht riskieren. Und dabei war ich noch wenige Tage vorher auf dem Maerkermeer bei dem Seegang der Meinung, der Motor sei das zuverlässigste am ganze Boot.
[Abschlepparktion bis Burg] Im Grunde verachte ich diese riesigen schwimmenden motorisierten Blechhaufen. Die kleinen Motorboote haben noch einen gewissen Charm, die Leute sind nah am Wasser, die etwas schnelleren kann mensch zur Not noch tolerieren, auch die Eigenbauten. Aber diese schwimmenden Kolosse, das ist irgendwie pervers: Warum bleiben die Leute nicht da, wo sie herkommen? Jedenfalls passiere ich das Wasserkreuz bei Magdeburg über die Elbe, und dann kommt schon bald eine Schleuse [Schleuse Hohenwarthe] und viele Sportboote warten davor. Ich erwische einen Platz ganz hinten und sage mir beim Ausfahren, dass ich mir jetzt ganz viel Zeit lasse, damit die anderen Boote einen schönen Vorsprung herausfahren können und ich ganz in Ruhe hinterher fahren kann. Das machen auch alle, sie geben gut Gas beim Rausfahren und verschwinden schön. Nur eines, und ausgerechnet das größte von diesen Sportbooten fährt ausgesprochen langsam. Und dann erscheint dieser Typ auf dem Hochdeck und rudert im Kreis mit seinem rechten Arm, als wolle er sich diesen auskugeln. [Nachher erklärt mir der Typ: das Kreisen mit dem Arm wäre ein übliches Notfallsignal. Hm, kann sein oder auch nicht. Erinnern kann ich mich jedenfalls an sowas nicht.] Ich stoppe auf. Er habe eine Havarie und ich müsse ihn schleppen. Mir gefällt der Tonfall nicht. Ich drehe eine Runde und stoppe langsam auf. Er habe einen Motorschaden und komme nicht voran. Also gut. Die anderen sind längst weit weg und treiben lassen kann ich ihn hier auch nicht. Die Pfänder sind ohnehin draußen und ich lasse mir die Leinen geben und verzurre das Schiff so, dass es vor mir liegt. Dann lege ich den Vorwärtsgang ein und gebe Gas. Der Trumm ist rechts vor mir angebunden. Ich schiebe mit meinen 9 PS und 3,6 Tonnen gefühlte 10 Tonnen vor mir her. Entsprechend langsam ist die Fahrt. Ich sage ihm, dass voraus Burg kommen würde und da gäbe es Häfen. Bis dahin sind es etwas mehr als drei Kilometer. Wir brauchen eine gute Stunde bis dahin. Es stellt sich heraus: Auch er hat dieses Boot in Holland gekauft und ist damit über Ter Apel und den Haren Rutenburg-Kanal gefahren. Beachtlich. Dann kann der Kanal doch nicht so klein sein. Allerdings ist er ohne Kartenmaterial unterwegs und weiß gar nicht so genau, wo er eigentlich ist. Das ist mir einigermaßen unverständlich: Einen Haufen Kohle zahlen für einen dicken protzigen Pott, aber dann reicht es nichtmal für einfachste Binnenkarten. Er kommt aus Köpenick und ist von seinem Verkäufer total enttäuscht. Weil das Boot unterwegs schon einmal einen Motorschaden hatte. Er ist total dankbar, als ich ihm meine Karte rüberreiche zur Orientierung. Bis Burg hatte ich zugesagt, ihn zu schieben. Bin dankbar um jeden Meter, den wir uns diesem Ziel nähern. In Burg angekommen werfe ich die Leinen los, er will zur Werft rüber fahren. Offenbar ist seine Maschine doch nicht vollständig hinüber, dass er noch allein fahren kann. Hoffe insgeheim, dass er mir noch ein Pfund oder wenigstens einen 10er gibt für den zusätzlichen Diesel, den ich in diesen 90 Minuten verfahren habe. Aber nix da, kaum werfe ich ihn los, ist er schon mit seiner ganzen Aufmerksamkeit dabei, den Werfthafen anzusteuern. Egal, Seemannschaft bedeutet, nicht nur den netten zu helfen, sondern denen, die gerade da sind. Wer weiss, womöglich hilft mir ausgerechnet so ein Scheiß-Motorboot mal genau dann, wenn ich Hilfe brauche. Also nicht vorschnell urteilen, sondern die Situationen so nehmen, wie sie kommen.
[Genthin – Mutteralarm] In etwa einer Stunde würde ich Genthin erreichen, als plötzlich das Telefon klingelt. Es ist der Malteser Hilfsdienst. Seit ein paar Wochen ist meine Mutter am Hausnotruf angeschlossen für den Fall, dass sie wieder umkippen würde. Mir wird mitgeteilt, dass sie den Alarm ausgelöst hätte, sich aber nicht melden würde. Ich erkläre, dass ich unterwegs in Brandenburg sei und nicht zeitnah reagieren könne. Ich bitte, es zunächst bei meinem Bruder zu versuchen und dann ggf. ein Team dort hin zu schicken. Ich überlege, in Genthin anzulegen und sofort nach Berlin zu fahren. Doch selbst im günstigsten Fall würde ich spätens in vier Stunden in Berlin sein. Allein Genthin zu erreichen, das Boot festzumachen und zum Bahnhof zu eilen, würde mehr als eine Stunde dauern. Und dann war noch gar nicht gesagt, dass ich gleich einen Zug erwischen würde. Als Genthin in Sichtweite ist, rufe ich meinen Bruder an. Ja, auch er war angerufen wurden, war aber noch in einer Besprechung und hat den Malteser Hilfsdienst gebeten, bei unserer Mutter nachzusehen. Dass sie sich nicht gemeldet habe, hätte ihn auch verwundert, er würde aber später nochmal selbst vorbei fahren. Ich beschließe, weiter zu fahren nach Stadt Brandenburg, da ich ohnehin nichts ausrichten kann.
In Genthin war ich mal vor ein paar Jahren auf dem Weg nach Parey. Ich hatte den Ort vom Wasser aus ganz anders in Erinnerung, als er sich damals zeigte. Überall vor und hinter Genthin mächtige Bauarbeiten am Wasser. Der Kanal wird offenbar vertieft, weiter begradigt, die Böschungen neu befestigt.
[Brandenburg an der Havel] Als ich die Brandenburger Gewässer erreiche, fühle ich mich schon beinahe wie zu Hause. Hier war ich schon öfter mit dem Jollenkreuzer, hier ist mir das Revier vertraut. Mein Bruder ruft an. Mit unserer Mutter ist alles in Ordnung. Sie hatte einen kurzen epileptischen Anfall und hat den Notruf ausgelöst. Dass sie sich hätte laut melden können, war ihr gar nicht bewußt gewesen. Nach etwa einer Stunde war der Malteser Hilfsdienst bei ihr zu Hause eingetroffen und hätten sie halbwegs aufgeräumt vorgefunden. Ich bin erleichtert. Ich beschließe, am Stadtanleger fest zu machen und mache einen längeren Spaziergang durch die Stadt. Zur Feier des Tages gönne ich mir eine Pizza. Bis hierher bin ich schon gekommen, und den Rest werde ich auch noch schaffen.
[Going home] Am nächsten Morgen startet der Motor ohne zu zicken und ich fahre die Strecke ab. Bei der Einfahrt in den Teltowkanal überdenke ich nochmals meine Planung. Ursprünglich wollte ich bis Hafen Tempelhof fahren, um dann am frühen Abend nach meiner Mutter zu schauen, die keine 10 Minuten Fußweg vom Hafen Tempelhof wohnt. Auf der anderen Seite sind es vom Hafen Tempelhof noch höchstens dreieinhalb Stunden nach Schmöckwitz und dann wäre der Törn zu Ende. Ich telefoniere mit meiner Mutter. Alles in Ordnung, ich soll mal schön bis Schmöckwitz fahren.
[Begrüssung] Gaaanz langsam und vorsichtig nähere ich mich meinem neuen Liegeplatz. Es ist kurz von 20 Uhr an einem Freitag, und ich hoffe, dass ich nicht weiter beachtet werde und in Ruhe anlegen kann. Nix da. Am Ufer ist eine lange Tafel aufgebaut und eine größere Gruppe feiert irgendwas. Natürlich ist wahrgenommen worden, dass sich ein unbekanntes Boot dem Vereinssteg nähert und einigen wird wohl klar, dass ich das sein müsste. Langsam füllt sich der Steg an meinem Anlegeplatz. Gefühlt 10 Leute reißen sich darum, meine Leinen festmachen zu können. Ich werde begrüßt und zum neuen Boot beglückwünscht. Ich sitze dann noch für eine gute halbe Stunde in der Runde und werde mit Bratwurst und Salaten verwöhnt und erzähle dies und das von meinem Törn.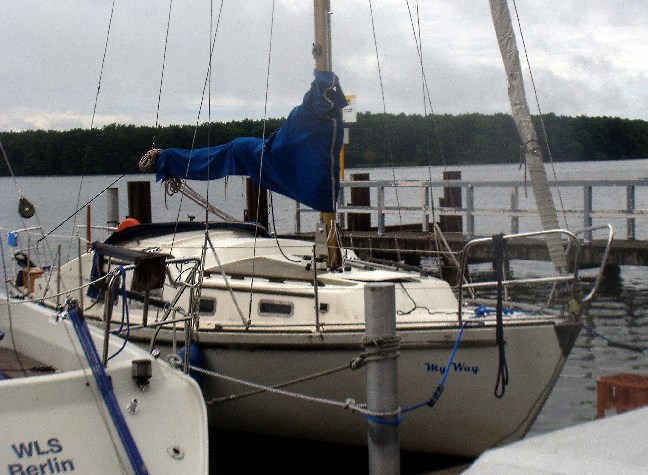 [Zweifel] Nein, ich bin immer noch nicht hundertprozentig sicher, ob das eine richtige Entscheidung war mit diesem Boot. Ich bin so weit vom Wasser weg, das Ding ist so groß und so schwer zu handhaben. Mit dem Jollenkreuzer war ich verwachsen, vertraut. Ich wußte, wie das Boot reagiert, was ich ihm zumuten konnte. Es war leicht zu handhaben mit dem Aussenborder, dem Anker, dem Schwert. Auch bei stärkerem Wind stand das gereffte Segel wie eine Eins und das Schiff ließ sich sicher steuern. Wir waren zusammen auf der Müritz, auf dem Haff und dem Greifswalder Bodden, auf dem Schweriner See und der Masurischen Seenplatte, wir segelten auf der Elbe, der Oder und der Weichsel – in den letzten Jahren meistens einhand. Unzählige positive Erlebnisse und Erinnerungen verband ich mit diesem Schiff. Und jetzt, mit dem neuen Schiff war alles anders. Diese Vertrautheit, die werde ich mir erstmal erarbeiten müssen ....
Auf der anderen Seite: Seit Jahren habe ich davon geträumt, ein grosses Boot zu haben und jetzt habe ich es. Der Rest wird sich finden. War ja bei den anderen Schiffen auch so.

Berlin, 11.10.2013

Stefan Schneider

[Anmerkungen]

[1] Nicht ganz zu Unrecht geht ja über Segler die Sage, dass mit jedem Bier der Wind ein Stück stärker und die Seeungeheuer noch ein wenig größer werden. Ich persönlich halte davon nichts, sondern neige dazu, lieber etwas zu untertreiben. Das hat Gründe. Zum einen mag ich Prahlereien nicht und zum anderen ist Segler_in gut beraten, anzunehmen, dass es noch dicker kommen kann.

[2] Ich hatte bei der Übergabe gesehen, dass Seekarten von Maerkermeer und vom Ijsselmeer an Bord waren. Diese waren zwar schon einige Jahre alt, aber ich entschied mich, dass das reichen muß. Zum einen ging ich davon aus, dass sich das Gewässer nicht wesentlich geändert hat und zum anderen, dass auch die Betonnung noch unverändert vorhanden war. Auch rechnete ich damit, weitgehend auch Sichtnavigation vornehmen zu können, also die Orientierung an Landmarken, Kirchtürmen usw. Für den weiteren Streckenverlauf hatte ich mir nautische Literatur beschafft:

[3] Ziemlich ordinär, nicht wahr? Diese drastische Ausdrucksweise, die manchmal aber sehr angebracht ist, habe ich von Manne Grube übernommen. Der äußerte sich in seinen Törnberichten bisweilen ähnlich deutlich.
[Abbildungen]


"Leben ist wie Segeln: man kann Wetter und Wasser nicht ändern, aber man kann immer das Beste daraus machen."
unbekannter Autor
"Worte sind Luft. Aber die Luft wird zum Wind, und der Wind macht die Schiffe segeln."
Arthur Koestler (1905 – 1983), österreichisch-ungarischer Schriftsteller
"Kein Wind ist demjenigen günstig, der nicht weiß, wohin er segeln will."
Michel de Montaigne (1533 – 1592), französischer Humanist, Jurist, Politiker, Philosoph und Essayist
"Wer den Hafen nicht kennt, in den er segeln will, für den ist kein Wind der richtige."
Lucius Annaeus Seneca (1 – 64 n.Chr.), römischer Philosoph und Schriftsteller
"Ideale sind wie Sterne. Wir erreichen sie niemals, aber wie die Seefahrer auf dem Meer richten wir unseren Kurs nach ihnen."
Carl Schurz (1829 – 1906), deutsch-amerikanischer Politiker und Publizist
Quelle: Lebenserinnerungen
"Der Pessimist klagt über den Wind, der Optimist hofft, daß er dreht, der Realist richtet das Segel aus."
Sir William Ward (1837 – 1924), britischer Historiker
"Es gibt Gezeiten auch für unser Tun. Nimmt man die Flut wahr, führet sie zum Glück, versäumt man sie, so muß die ganze Reise des Lebens sich durch Not und Klippen winden."
William Shakespeare (1564 – 1616), englischer Dichter und Dramatiker
"Setze Dein Segel, solange der Wind günstig ist."
unbekannter Autor
"In 20 Jahren wirst Du Dich mehr ärgern über die Dinge, die Du nicht getan hast, als über die, die Du getan hast. Also wirf die Leinen los und segle fort aus Deinem sicheren Hafen. Fange den Wind in deinen Segeln. Forsche. Träume. Entdecke."
Mark Twain (1835 – 1910), US-amerikanischer Schriftsteller
"Ein Mensch ohne Träume ist wie ein Boot ohne Segel."
unbekannter Autor
"Man kann keine neuen Ozeane entdecken, hat man nicht den Mut, die Küste aus den Augen zu verlieren."
André Gide (1869 – 1951), französischer Schriftsteller, Literaturnobelpreisträger
"Das ganze Meer verändert sich, wenn ein Stein hineingeworfen wird."
Blaise Pascal (1623 – 1662), französischer Mathematiker, Physiker, Literat und christlicher Philosoph
"Auf der Welt gibt es nichts, was weicher und dünner ist als Wasser. Doch um Hartes und Starres bezwingen, kommt nichts diesem gleich. - Daß das Schwache das Starke besiegt, das Harte dem Weichen unterliegt, jeder weiß es, doch keiner handelt danach."
Laotse (auch: Laozi, 6. Jhdt. v. Chr.), chinesischer Philosoph
"Gegen den Wind zu kreuzen bringt einen manchmal schneller zum Ziel als mit dem Wind zu segeln."
Hermann Lahm (1948), Autor
"Ich bin Bürger des schönsten Landes dieser Erde. Es ist ein Land mit harten, aber klaren Gesetzen, riesig und ohne Grenzen. Niemals wird dort etwas versprochen, was nicht gehalten werden kann, und immer lebt man in der Gegenwart. In diesem Reich ohne Grenzen, in diesem Reich des Windes, des Lichts und des Friedens hat nur einer das Sagen - das Meer."
Bernard Moitessier (1925 – 1994), französischer Einhand-Weltumsegler und Publizist
Quelle: Moitessier: Der verschenkte Sieg
"Wenn Du ein Schiff bauen willst, dann trommle nicht
Männer zusammen um Holz zu beschaffen, Aufgaben zu
vergeben und Arbeit einzuteilen, sondern lehre die Männer
die Sehnsucht nach dem weiten, endlosen Meer".
Antoine de St.-Exupéry (1900 – 1944), französischer Schriftsteller und Pilot
"Wind, See, Schiff und Segel bilden eine zusammengehörige, lose gefügte Einheit, ohne Anfang noch Ende, Teil und Ganzes des Universums, meines eigenen, nur mir gehörigen Universums.
Ich betrachte den Sonnenuntergang, ich atme den Hauch der Weite, ich fühle meine Seele aufblühen, und meine Freude schwingt so hoch empor, dass nichts sie mehr einzudämmen mag.
Und die übrigen Probleme, die mich mitunter quälen - sie wiegen nicht ein Gramm angesichts der unendlichen Ferne, in der sich das Kielwasser mit dem Himmel ver­eint, angesichts des Windes über der See, die sich von keinen kleinlichen Alltagssor­gen beunruhigen lässt."
Bernard Moitessier (1925 – 1994), französischer Einhand-Weltumsegler, Segler und Publizist
Quelle: Moitessier: Der verschenkte Sieg
"A ship in a harbour is safe, but that is not what ships are built for."
"Ein Schiff, das im Hafen liegt, ist sicher. Aber dafür sind Schiffe nicht gebaut."
William Shedd (1820 – 1894), amerikanischer Theologe
"Dem Schiffsmann hilft Gott, aber rudern muß er selber."
unbekannter Autor
"Ohne Grundsätze ist der Mensch wie ein Schiff ohne Steuer und Kompaß."
Samuel Smiles (1812 – 1904), schottischer Arzt und Schriftsteller
"Es ist schwierig zu sagen, was es bedeutet das Landleben aufzulösen, Sicherheiten abzugeben um mit der See zu leben - die Leinen zu lösen und ankommen, indem ich auf Reise gehe. Ist es das Farbenspiel des Lichtes, das die See immer wieder neu und zauberhaft koloriert, ist es das manchmal tänzerische Spiel der Wellen oder die Ehrfurcht gebietende Kraft sich brechender Seen? Ist es die Ahnung von der Unendlichkeit des Sternenhimmels oder die Ästhetik des leeren Raumes - die See fasziniert mich immer wieder aufs Neue."
Gudrun Calligaro (*1948), deutsche Einhand-Weltumseglerin, Seglerin
Quelle: Homepage http://www.gudrun-calligaro.de/segeln/einhand/einhand1.htm
"Heute durchströmt mich ein tiefes Glücksgefühl: Ich habe davon geträumt, alle fünf großen Kaps an Steuerbord zu passieren – jetzt habe ich es getan: nonstop und allein. (…) Ganz einfach."
Wilfried Erdmann (*1940), deutscher mehrfacher Einhand-Weltumsegler, Segler und Sachbuchautor
Quelle: Erdmann 2004, 10
"In der Praxis sammelte ich Erfahrungen auf See. Ich segelte allein, immer bewußter die damit verbundenen Erfahrungen erkennend. Ich war auf niemanden angewiesen, konnte frei und unabhängig planen und mich unterwegs nach Gutdünken den gegebenen Verhältnissen anpassen. Auch brauchte ich mögliche Risiken und Gefahren nur vor mir selbst zu verantworten."
Rollo Gebhard (1921 – 2013), Einhandsegler, mehrfacher Weltumsegler, Segler, Autor, Tierschützer
Quelle: Gebhard 1983, 10
Literatur
Calligaro, Gudrun. Ein Traum wird wahr : als erste Deutsche einhand um die Welt. Bielefeld: Delius Klasing, 1996. Print.
Erdmann, Wilfried. Allein gegen den Wind : nonstop in 343 Tagen um die Welt. Bielefeld: Delius Klasing, 2004.
Gebhard, Rollo. Ein Mann und sein Boot 4 Jahre allein um d. Welt. Rastatt: Moewig, 1983. Print.
Moitessier, Bernard. Der verschenkte Sieg. Bielefeld: Delius Klasing, 1992. Print.
Abbildung: Hans Dahl: Upon Sunny Waves. Vor 1937
Quelle: Wiki-Commons: https://commons.wikimedia.org/wiki/File:Hans_Dahl_-_Upon_sunny_waves.jpg
URL: http://www.artnet.com/artist/4740/hans-dahl.html
PRIORITÄTEN SEEKLAR
a) winterdicht+ Kleinigkeiten
Wassertank leeren
Druckertest durchführen
Verlauf Kraftstoffleitungen Edelstahlhalter
Griff Bootshaken
Grosssegel ordentlich verpacken
Logge entfernen
b) Landstrom + Vorbereitung
Verkabelungswege vorbereiten
Verkabelung Bugseitig
Verkabelung Heckseitig
Umschalter und FI – Schalter (SINEMUS)
Verteiler
Anschluss Ladegerät Verbraucherbatt
Anschluss Ladegerät Starterbatt
c) 12 Volt-Strom + Vorbereitung
Kabelführung Batterie – Hauptschalter /Sicherung (SINEMUS)
Kabelführung Sicherung – Schalterkasten (SINEMUS)
Schalterkasten fertig bauen
Tür Schaltkaten mit Schaltern
Positionslichter BB, StB,
Hecklicht montieren
Decksdurchlass für Hecklicht
Masttop Leitung
Dampferlicht
Kabeltransit Funk + Allgemein
Beleuchtung Kajüte
12 Steckdosen Kajüte
Horn anschließen
Schwalbennest (Radio, 12 V, 2 x Lich)
Dach Schadstellen mit Epoxydharz ausbessern
Kompasshalterung befestigen
Kompassbeleuchtung anschließen
Solarpanel aufkleben
Solarpanel Decksdurchführung
d) Heizung montieren
Positionierung Gerät
Platte anpassen (Flex)
Schrauben
Öffnung aussägen
Öffnungsbereich streichen
Verlauf Auspuff
Kraftstoffleitung
Kraftstoffpumpe
Anschluss Auspuff
Anschluss Gebläse
Verlauf Verkabelung
e) Öffnungen schließen
Hecklichtöffnung schließen
Auspufföffnung schließen
Loggenöffnung schließen
Kielbohrungen schliessen
f) Einzelmontagen und -arbeiten
Windfahnensteuerung montieren
Kajütluke (Dichtband verkleben, Leisten, Scharniere, Montage)
Grosssegel richten (Reffbändsel, Reffkauschen, Leinenführung)
Schapps/Duchten/Schränke schleifen/ streichen
g) Motor
Dieselfilter erneuern
Ölwechsel
Impeller erneuern
Deckel erneuern Wasserpumpe
Schlüssel für Wasserpumpe
Keilriemen erneuern
Frostschutzmittel: für PKW im Baumarkt kaufen
h) sonstiges
Schappdeckel schleifen, Löcher dichten, schleifen, schreichen, Dichtungen erneuern, montieren
Bilge ...
Bilgensumpf herstellen
Bilgenpumpe installieren mit Schalter
Schlauchführung mit Rückschlagventil
Wassertankpumpenschalter erneuern // ggf. an anderen Ort verlegen
Bericht von der Gala – Nacht der Boote 2015 (Eröffnungsabend der Boot & Fun am 25.11.2015)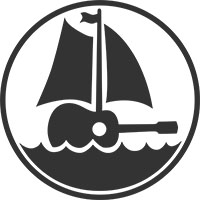 Das mit den Bootsausstellungen ist so ein Sehnsuchtsthema. Es ist kein Zufall, dass fast alle Bootsmessen dann stattfinden, wenn die Boote aus dem Wasser sind. Zweimal war ich jetzt auf der Hanseboot in Hamburg, und im letzten Jahr das erste Mal auf der Boot & Fun in Berlin. Das aber nur, weil der Vereinsvorsitzende von meinem Segelverein einige Freikarten hatte für die Gala-Nacht der Boote. Die geht um 18:00 Uhr los und dauert bis Mitternacht, ideal für Berufstätige und für Nachtschwärmer. So schlecht war die Boot & Fun gar nicht mal, so dass ich 2015 wieder hin wollte und mir eine Karte organisierte, diesmal direkt über die Messe Berlin.
Das Schwierige bei zweiten Besuchen ist zum einen die Erwartung und zum anderen der kritische Blick. Man ist nicht mehr so geblendet, sondern sieht schon die eine oder andere Unzulänglichkeit. Und so war es auch. Da haben die Veranstalter beispielsweise wieder die brasilianische Sambagruppe engagiert wie auch schon im letzten Jahr. Die machen eigentlich nur störenden Lärm, und eine Frau halbnackt rumlaufen zu lassen finde ich eher sexistisch. Auch die beiden Menschen, die den ganzen Abend in blauen Gewändern auf Stelzen rum laufen mussten, taten mir leid. Sie sollten wohl Wellen symbolisieren. Da sollte die Messe Berlin sich mal etwas mehr Mühe geben bei der Auswahl des Rahmenprogramms, zumal der Preis mit 30€ für die Gala-Nacht nicht gerade gering ist.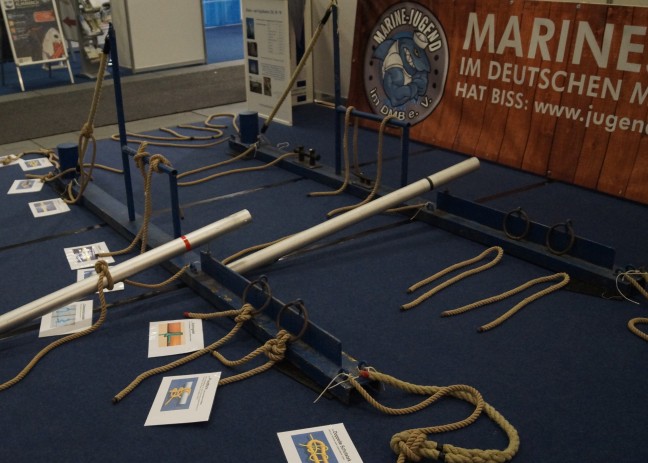 Für mich als Segler war natürlich ärgerlich, dass von den 581 gezeigten Booten nur ganze 110 Segelboote vertreten waren. Gleich zu Anfang entdeckten meine Begleiterin und ich ein Segelboot, das eher aussah wie eine Häkelmaschine. Da waren überall Strippen, Leinen, Taue, Bändchen und Enden. Möchte gerne wissen, wie viele Segler da überhaupt noch durchblicken. Fahrtenboote zum ansehen gab es nicht so viele, aber doch fanden wir einige. Dann schauten wir uns die Details an und wenn wir irgendwo eine Anregung für unser Boot entdeckten, fotografierten wir das ab.
Am meisten interessant waren die Aussteller, die wir direkt befragen konnten. So informierten wir uns ausführlich über Korkbeläge auf Schiffen, über Zusätze für den Dieselkraftstoff, welche die Algenbildung vermeiden können, über geeignete Plotter und AIS-Systeme für unser Boot, über Bootskühlschränke und Möglichkeiten der Trinkwasserreinigung, Patentbootshaken und Schlauchboote als Beiboote, sowie Textilklebstoffe. Wir sahen uns verschiedene Bungalowboote an und ignorierten so ziemlich alle Motorboote.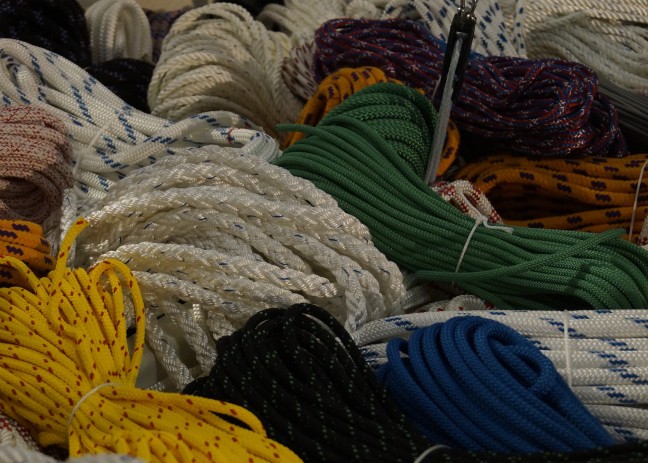 Sehr störend sind uns auf der Boot & Fun die vielen Drogen aufgefallen. Fast überall gab es Alkohol, Bier, Wein, Sekt, aber auch Schnaps in aller Form und davon wurde exzessiv von sehr vielen Menschen, meist Männern, Gebrauch gemacht. Nicht nur der Großteil der Messebesucher, auch ein nicht unerheblicher Teil der Ausstellenden war angetrunken. Gegen Ende der Messe beobachteten wir sogar lallende und torkelnde Menschen. Das war nicht schön. Informationen über die Gefahren von Alkohol und die Problematik von Bootsunfällen unter Alkohol- und oder Drogeneinfluss: Fehlanzeige. Hier gibt es einen erheblichen Nachholbedarf. Aber auch in meinem Segelverein nehmen die Alkoholexzesse einiger Mitglieder bisweilen unangenehme Ausmaße an, leider fehlt es den meisten an einem Problembewusstsein für dieses Thema.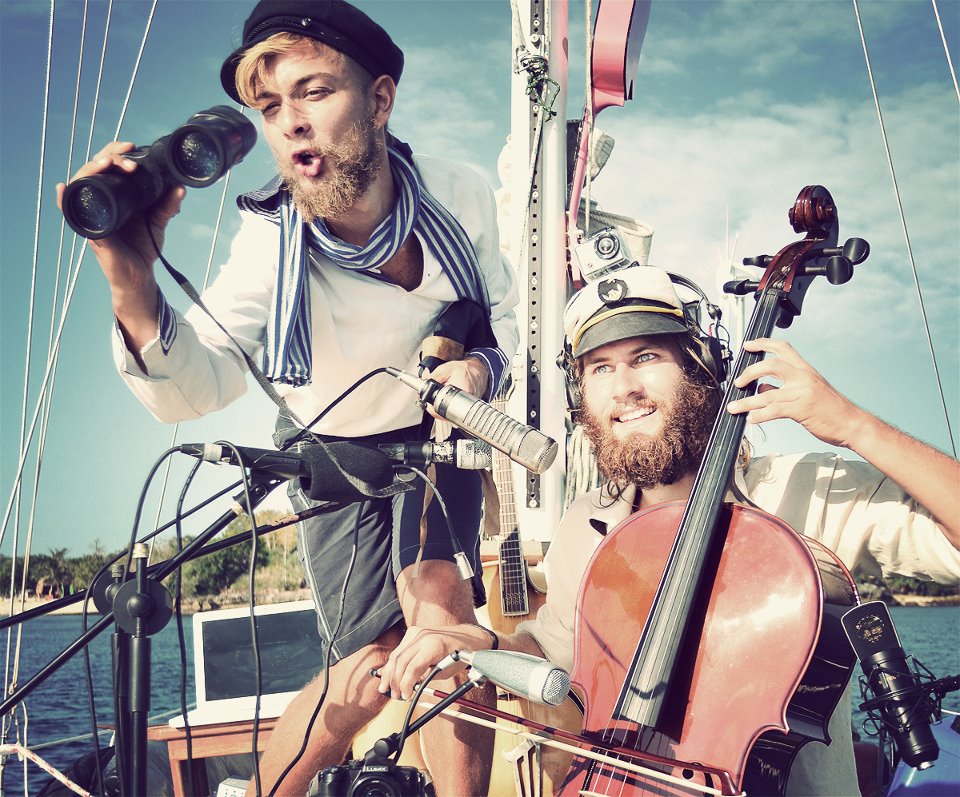 Gleich zu Anfang ist uns in der Gebrauchtboothalle ein sehr schönes Boot aufgefallen, die SY Marianne, ein bauchiger Langkieler von vielleicht 31 Fuß Länge. Junge Leute kramen am frühen Abend alles mögliche aus dem Boot heraus und errichten rund ums Boot eine Eventzone. Wir erfahren: Es handelt sich um das Projekt Sailing Conductors – Entdecke das Unerhörte von Benjamin Schaschek und Hannes Koch (Käptn und Matrose). Die beiden Toningenieure besorgen sich nach Ende des Studiums in Sydney ein Segelboot und wollen 1 Jahr lang Segeln und Musik einsammeln. Aus dem einen Jahr sind 4 ½ geworden und mit Hilfe von Mikrofon, Kamera und Laptop entsteht ein Stück Weltmusik, die Musiker aus unterschiedlichen Regionen und Kontinenten in echten und virtuellen Räumen miteinander verbindet. Ein sehr gutes Beispiel dafür, wie Globalisierung auch laufen könnte: Menschen kommen zusammen, bereichern einander und haben vor allem eins: Viel Spaß! Und mir wird schlagartig klar, gleich im Frühjahr nächsten Jahres werde ich wieder auf meinem Boot wohnen. Kurz vor Mitternacht gibt es dann eine Mischung aus Törnbericht und Spontankonzert. Wir besichtigen noch das etwas verkramte Boot und fahren dann ziemlich erschöpft und recht versöhnt mit der S-Bahn nach Hause.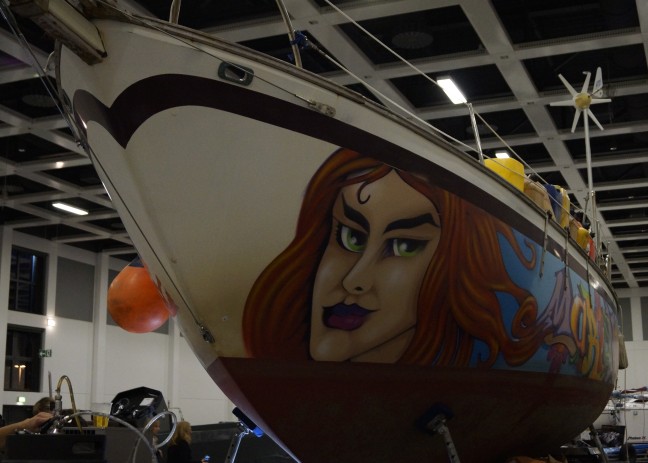 Fazit: Die Boot & Fun ist für eine Bootsmesse schon mal ein guter Anfang. Mehr Segelboote, deutlich weniger Alkohol, längere Öffnungszeiten auch an den anderen Tagen und eine Bühne für Törnberichte und praxisorientierte Kurzvorträge zu Themen rund um den Wassersport – das wären unsere Wünsche für die nächsten Jahre. Und mehr innovative Gäste wie die beiden von den Sailing Conductors.
Berlin, 27.11.2015
Stefan Schneider
Fotos: S.J. aus B.
Links:
www.boot-berlin.de/
sailingconductors.com/
Weltumsegler*in in 5 Etappen
Rezension zu: Martina Kleinert: Weltumsegler. Ethnographie eines mobilen Lebensstils zwischen Abenteuer, Ausstieg und Auswanderung. Dezember 2014, 364 Seiten, kart., zahlr. Abb., 29,99 €, ISBN 978-3-8376-2882-1
Prolog
Scheiß doch auf die Seemannsromantik
Ein Tritt dem Trottel, der das erfunden hat
Niemand ist gern allein mitten im Atlantik
(Sven Regener/ Element Of Crime, Vier Stunden vor Elbe 1 von dem Album Damals hinterm Mond 1991)
1. Etappe: Wir träumen uns um die Welt
Die meisten Menschen, die Segeln, lesen auch Segelbücher und nicht wenige Bücher haben herausragende Segelleistungen von Einzelpersonen oder Kleinstgruppen (meistens: heterosexuelle Paare) zum Gegenstand. Also Bücher, die geschrieben sind aus der Ich- oder Wir- Perspektive. Ein häufiger Topos sind Weltumsegelungen. Geschildert wird dann meistens die Motivation und Planungsphase, die Aufregung beim Start und das Abschiednehmen für eine längere Zeit, die unterwegs erlebten Abenteuer und überstandenen Stürme, und meistens dann als Happy-End die glückliche Heimkehr. Diese Bücher enthalten meistens eine oder mehrere respekteinflößende Karten von der Route, eine Skizze vom Boot und eine Auflistung der Ausrüstung, manchmal sogar eine detailierte Übersicht der gesegelten Strecken und Tage und mehr oder weniger viele Schnappschüsse, die auf der Fahrt entstanden sind. Und es ist ja auch interessant und anregend, sich über anderer Menschen Taten und Leistungen zu informieren. Man kann sich entweder selbst in diese Welt hinein imaginieren und tagträumen, oder aber die Bücher als Anregung nehmen und es einmal selbst tun. Und schon ist die Idee einer eigenen Weltumsegelung geboren. Wahrscheinlich sind die Grenzen zwischen Träumen und Planen an dieser Stelle fließend. Gut, es gibt jede Menge tragischer Geschichten von geplanten Eigenbauten, die nie fertig wurden aus Mangel an Geld, Zeit, Gesundheit, Kompetenz oder einer Kombination aus diesen Faktoren. Und wer sich oft genug am Wasser, auf Schiffswerften und Seegrundstücken herumtreibt, wird das eine oder andere Objekt des Scheiterns zu Gesicht bekommen. Wobei, ist ein unfertiges Schiff wirklich eine Katastrophe? Oder müssen wir uns die prekären Bastler nicht vielmehr als friedliche Menschen vorstellen, die über Jahre hinweg ihre Träume träumen, statt Krieg zu führen, die Umwelt ausplündern und die Mitmenschen auszubeuten? Und schließlich: Wie viele Menschen sind wohl nur deswegen zu einer Weltreise gekommen, weil sie zum richtigen Zeitpunkt am richtigen Ort waren und einen dieser bastelnden Menschen mit Geld und guten Worten von diesem Projekt erlöst haben? Fragen über Fragen.
Auf jeden Fall sind es lange nicht mehr nur einzelne Personen, die aussergewöhnliche seglerische Leistungen erbringen, sondern inzwischen eine ganze Population. Die Filmemacherin und Kulturanthropologin Martina Kleinert kommt eher aus Zufall dazu – für Dreharbeiten mit ihrem Partner Thorolf in der Südsee bietet sich ein Schiff als Wohn- und Reisemobil geradezu an. Sie ist verwundert, wie schnell sie Kontakt zur Szene der sog. "Yachties" herstellen kann und von diesen als solche akzeptiert wird. So reift die Idee einer ethnographischen Studie über eben diese Gruppe von Menschen.
2. Etappe: Her mit den Gewürzen!
Ganz Europa ist scharf auf Gewürze. Die einen, weil ein paar Krümel davon jedes noch so fade Essen in ein leckeres Gericht verwandeln können, die anderen, weil sie sich enorme Heilkräfte von Safran, Muskatnuss und Co. versprechen. Und nicht wenige verdienen sich dumm und dämlich damit. Jedoch, es gibt da ein klitzekleines Problem gegen Ende des 15. Jahrhunderts und das sind die ständig steigenden Transportzölle der Osmanen. Sultan Bayezid II. ist ein an und für sich friedlicher Mann, aber was Steuern angeht, versteht er einfach keinen Spaß. Jeder noch so kleine Pfeffersack, der die legendäre Gewürzstraße passieren will, wird besteuert. Wer zu diesem alternativlosen Zwangsweg eine Alternative finden kann, wird ein gemachter Mann sein. Columbus schlägt den Spanischen Königen vor, es auf einem westlichen Seeweg zu versuchen, und tatsächlich findet er 1492 dort etwas, nur eben nicht die hinterindischen Gewürzinseln. Den Seeweg nach Indien schafft Vasco da Gama 1498 über das Kap der Stürme (heute: Kap der guten Hoffnung). Die Informationen über die neuen Welten und Wege fügen sich zusammen, und es war die Victoria, ein Schiff aus der Flotte des Portugiesen Ferdinand Magellan, der 1519–1522 die erste Weltumsegelung gelingt
Seitdem haben nicht wenige Menschen auf Schiffen die Welt umrundet. Ein Meilenstein dabei ist Fahrt von Joshua Slocum, der in den Jahren 1895 bis 1889 alleine auf einem Segelboot die Welt umfährt. Zu diesem Zeitpunkt ist schon längst abzusehen, dass die motorisierten Dampfschiffe das Zeitalter des Segelns beenden werden. Segeln im industriellen Zeitalter war mehr oder weniger zu einer Freizeitbeschäftigung geworden. Zahlreiche Yacht-Clubs wurden gegen Ende des 19. und zu Beginn des 20. Jahrhunderts weltweit gegründet und schon um 1900 wurde Segeln als olympische Disziplin aufgenommen. Mit anderen Worten: Segeln als Mittel der Fortbewegung auf See ist überflüssig geworden, und eben deshalb kann sie als privates Hobby wieder entdeckt und betrieben werden. Zum persönlichen Vergnügen. Aber ist es das? Martina Kleinert interviewt in ihrem Buch die Besatzungen von insgesamt 44 Booten (Einzelpersonen, Paare oder andere Konstellationen), die seit 1972 bis heute Weltumseglungen durchführten bzw. durchführen und beleuchtet viele damit im Zusammenhang stehende Fragen: Wie ist es, wenn das Boot das einzige Zuhause ist? Wie gestalten sich Beziehungen? Wie ist das Verhältnis von Privatheit und Öffentlichkeit, von Drinnen und Draußen, von unterwegs sein und ankommen, von wegfahren und bleiben, nach ökonomischer Basis und finanziellem Risiko, von Ausstieg auf Zeit und Lebensweise auf Dauer.
3. Etappe: Weil sie da ist!
Bei der Lektüre des Buches ist mir immer wieder das Thema der Everest - Besteigungen durch den Kopf gegangen. Im Winter 2006/07 war ich selbst mehrfach auf dem Everest (und dann wieder runter), natürlich nur virtuell. Jon Krakauer schrieb über das Unglück, dass sich im Jahr 1996 ereignet hatte und 8 Menschen das Leben kostete: Ein plötzlicher Wetterumschwung genau zu der Zeit, als mehrere Dutzend Menschen sich in der sogenannten Todeszone aufhielten, sei es, weil sie sich bereits im Abstieg befanden oder den Berg noch erklimmen wollten. Und natürlich haben auch andere Überlebende dieser Expedition es sich nicht nehmen lassen, ihre Version von dem Unglück zu Papier zu bringen, sei es, um ihre Sicht auf die Dinge darzulegen oder einfach nur, um ihren Teil des Profits daraus zu schlagen. Der Everest galt lange Zeit als der letzte unbezwungene Pol auf dieser Welt, und um den Besteigungsversuch von George Mallory im Jahr 1924 ranken sich viele Gerüchte und Spekulationen. Könnte er es geschafft haben? Sicher ist, dass er eine Höhe erreichte wie niemals zuvor ein Mensch vor ihm. "Bezwungen" wurde der Berg nachweislich erst im Jahr 1953 und lange Zeit wurde nur der Name des Neuseeländers genannt, doch inzwischen hat sich die Lesart durchgesetzt, dass die Erstbesteigung eine Gemeinschaftsleistung von Edmund Hillary und Tenzing Norgay gewesen ist und am 8. Mai 1978 bestiegen Reinhold Messner und Peter Habeler erstmalig den Giganten ohne Zuhilfename von Sauerstoff. Es war eben dieser Messner, der auf die Frage, warum er unbedingt auf diesen Berg hinauf wolle, die legendäre Antwort gab: Weil er da ist!
Weil sie rund ist! - Das könnte auch die Antwort auf die Frage sein, warum so viele Menschen die Welt umsegeln wollen. Inzwischen wird von Messner, aber auch von vielen anderen, kritisiert, daß die Mount-Everest-Tourismus-Industrie nichts mehr mit der eigentlichen Berg-Besteigung zu tun habe. Es ist ein offenes Geheimnis, dass Menschen gegen viel Geld auf den Everest geführt werden, die aus eigener Kraft niemals eine Chance hätten, den Gipfel zu erreichen. In wochenlanger Knochenarbeit werden für zahlende Kunden Pisten präpariert, Brücken über Gletscherspalten gebaut, Reserveflaschen und Proviant hochgeschleppt, Seilsicherungen gespannt, Zelte errichtet, und Kletterhaken eingeschlagen, um den Weg zum Gipfel zu ebenen. Und was auch dazu gesagt werden muss: Wer heutzutage auf den Gipfel will, muss inzwischen an einem ganzen Haufen Müll vorbei und an zahlreichen Leichen.
Auch bei den Seglern sind die Pionierzeiten von Rollo Gebhard, Burghard Pieske und Wilfried Erdmann lange vorbei und mit den Jahren hat sich ein ganzer Wirtschaftszweig um die Weltumsegelei gebildet. Es sind moderne Marinas entstanden, Navigation eine Frage von GPS und Computer (Wehe, wenn der mal ausfällt), und die Atlantiküberquerung erfolgt im Schwarm. Smartphone und Satellitentelefon besorgen den Kontakt zur Heimat und die lieben Angehörigen kommen auch schon mal gerne in die Karibik, um ein paar Tage mitzusegeln. Die Welt ist in der Tat kleiner geworden und das Navigieren einfacher.
4. Etappe: Ist Welt umsegeln eine Leistung?
Für den bekannten Blauwassersegler[1] Bobby Schenk ist Weltumsegeln eine Angelegenheit, die ein durchschnittlicher Mensch mit hinreichendem Interesse an der Sache ohne große Schwierigkeiten meistern können sollte. Fast schon flapsig ist seine Herangehensweisen zu den üblichen damit verbundenen Fragen: Segelschein? Interessiert ausser in Deutschland eigentlich niemanden! Segelkenntnisse? Die Grundlage sind an einem Tag lernbar! An- und Ablegen? Sollte konzentriert erfolgen und geübt werden! Das richtige Schiff? Ab einer bestimmten Größe eigentlich fast jedes! Der richtige Zeitpunkt? Besser jetzt als nie! So oder so ähnlich lauten die Schenkschen Antworten auf tausende besorgter Fragen auf seinem Blog. Die Botschaft: Noch nie war eine Weltumseglung so einfach. Und wörtlich: Eine Weltumsegelung mit zahlreichen Stopps kann heutzutage zum Kinderspiel werden, was die bestens betreute Laura Decker bewiesen hat. Original Zitat aus dem Artikel Um die Welt segeln für Anfänger - Weltumseglung light von Bobby Schenk.[2]
Nun ist Bobby Schenk alles andere als ein Leichtfuß. Im Gegenteil, er ist mehrfacher Weltumsegler und dürfte seinen Lebensunterhalt nicht zuletzt aus zahlreichen Blauwasserseminaren und Büchern wie Navigation - nur zum Ankommen oder Ankern oder Hafenmanöver verdient haben und verdienen. Nun weiss Schenk natürlich aus jahrelanger Erfahrung, dass nur ein Bruchteil der Menschen, die sich Weltumsegler*innenbücher kaufen oder seine Seminare besuchen, tatsächlich den Schritt wagen und auf Langfahrt gehen. Oder anders herum, wer minimum 20T€ in die Hand nimmt, wird nicht völlig unbedarft in See stechen, denn dafür ist Segeln dann wirklich die teuerste Art, unbequem und langsam zu reisen. Es sind also offenbar weniger die objektiven Gefahren, die das eigentliche Problem darstellen, als vielmehr das Gefahrenbewußtsein, das Menschen hindert, die Idee auch umzusetzen. Deshalb ist der von ihm verbreitete Optimismus nichts weiter als ein Geschäftsmodell. Kommen Sie zu mir, ich zeig es Ihnen, nur: Machen müssen Sie es selbst!
Die Gemeinsamkeit von Schenk und Kleinert besteht wohl darin, dass beide den Mythos Weltumsegelung gründlich entzaubern. Schenk durch seine flapsige Herangehensweise an die Fragen, Kleinert durch die Fragen, die sie den weltumsegelnden Menschen, die die trifft, stellt. Wie kamst Du auf die Idee? Was habt ihr gelesen? Wie lief die Vorbereitung? Wie verläuft so ein Tag? Welche Erfahrungen konntet ihr machen? Wie sieht Euer Kontakt zu anderen Seglern aus? Was war im Nachhinein anders als geplant? Was würdet ihr anders machen? usw. Es sind die persönlichen, ehrlichen Antworten, die kritischen Rückblicke, die dahingesprochene Selbstvergewisserung, der zum Ausdruck gebrachte Zweifel, die tastende Erinnerung, die unsentimentale Abrechnung, die dieses Buch so charmant machen.
Es gibt und gab Passagen beim Lesen des Buches, da habe ich den Eindruck, ich sitze jetzt mitten in der Gesprächsrunde und erwische einen Moment des nachdenklichen Innehaltens, und bin in Situationen dabei, in denen Menschen wirklich etwas wichtiges Mitteilen und nicht nur Schwätzen. Ich habe selbst im Rahmen einer wissenschaftlichen Arbeit Menschen zu persönlichen Dingen befragt und weiss daher sehr genau, dass genau hierin die zentrale Leistung besteht. Eine Atmosphäre des Vertrauens herzustellen bei der Menschen sich öffnen und von sich erzählen. Und das überraschende Ergebnis ist: Es sind Menschen wie Du und ich, die diesen Schritt gewagt haben, aus den konventionellen Mustern des Alltags auszusteigen und - für eine kürzere oder längere Zeit, einige für immer - sich auf ein Leben an Bord einzulassen. Wobei in der Arbeit von Kleinert auch sichtbar wird: Während die Pioniere in den 70ern bereit waren, ein tendenziell hohes persönliches Risiko für diese Lebensweise einzugehen, treten nunmehr vermehrt Menschen auf den Plan, für die das Projekt Weltumseglung eine mögliche Option ist. Die sich problemlos beurlauben oder vorzeitig pensionieren lassen können und die zudem auch häufig das finanzielle Potential mitbringen, um durch den Verkauf des Hauses oder aufgrund der Pensionsgelder sich einen solchen - insgesamt nicht gerade preisgünstigen - Lebensstil leisten zu können. Das fast schon massenhaften Weltumsegeln ist also auch ein Phänomen des demografischen Wandels (Menschen werden im Durchschnitt immer älter) und der ökonomischen Umverteilung (Reichtum auf Kosten der Armut nimmt weiterhin zu).
Exkurs: Welt umsegeln oder Welt erkunden?
Weltumsegler*innen waren und sind, so könnte eins meinen, Pioniere im Zeitalter der Globalisierung. Immerhin sind mehr als 70 Prozent der Erdoberfläche von Wasser bedeckt und das wenige Land also sehr gut mit einem schwimmenden Mobil erreichbar. Menschen, die sich einlassen auf Land, Menschen und Kultur, Landschaften und Gebräuche. Menschen, die Vermittler*innen, Brückenbauer*innen sind zwischen den Welauffassungen, Lebensstilen und Eigenarten. Auch dieser Frage geht Martina Kleinert in ihrer wissenschaftlichen Erkundung nach. Ihr Bericht legt die Antwort nahe, dass dem eher nicht so ist. Nicht nur, dass mit der Ausweitung des Phänomens Weltumsegler eine technische und soziale Infrastruktur gewachsen ist, es scheint auch so, dass die Gruppe der Yachties gerne unter sich bleibt und untereinander kommuniziert. Die Spezies Weltumsegler ist häufig nichts weiter als eine Untergruppe der Touristen mit besonderen Bedarfen, was ihre Yacht angeht, die sich aber ansonsten kaum von den anderen, über die Airports eingereisten Gäste unterscheidet. Der Kontakt zum anderen erschöpft sich häufig in der folkloristischen Wahrnehmung und im Abhaken von Sehenswürdigkeiten. Nein, die Yachties sind keine besondere Spezies, ausser vielleicht, dass sie in der Regel reicher sind als die Mehrheit der Menschen auf dieser Welt und daher in der Regel aus Gegenden der Welt stammen, die insgesamt als wohlhabend gelten. Wobei Martina Kleinert sich in ihrer Studie - wohl aus pragmatischen Gründen - auf deutschsprachige Weltumsegler*innen konzentriert hat.
5. Etappe: Vom Ende aller Weltumsegelungen.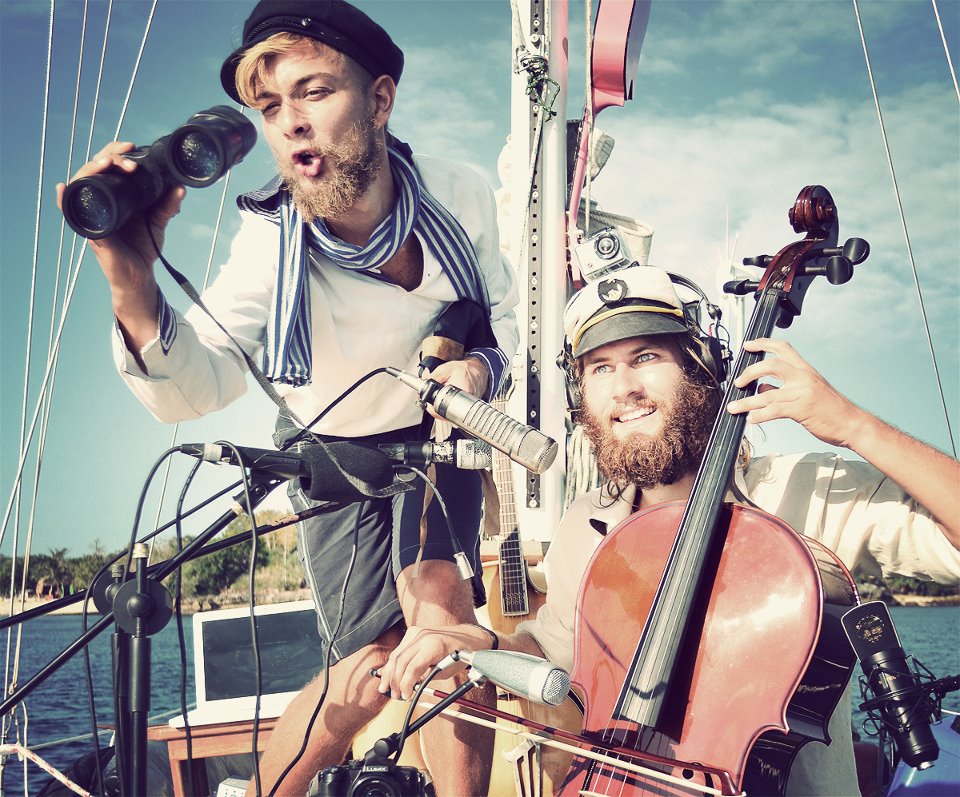 Es ist höchste Zeit, Abschied zu nehmen von der Idee der Weltumseglungen. Es gibt keine Weltumsegelungen mehr. Die sogenannten Weltumseglungen der letzten letzten fünfzehn, zwanzig Jahre waren in Wirklichkeit - von einigen Ausnahmen einmal abgesehen - Weltumsegelungs-Besichtigung-Fahrten. Fahrten, die dem Zweck dienten, sich davon zu überzeugen, wie Weltumsegelungen mit Sportbootenzu einem bestimmten Zeitpunkt aufgesehen haben und ob es noch immer so ist wie versprochen und berichtet. Weltumsegelungs-Sightseeing. Weltumsegelungen, bei denen die Touren der anderen mehr oder weniger nachgefahren und mehr oder weniger das gefunden wurde (oder gefunden werden sollte), was in den Berichten versprochen wurde. Um nicht mißverstanden zu werden: Es geht nicht darum, die seglerische Leistung von einzelnen oder Kleinstgruppen zu diskreditieren oder in Abrede zu stellen. Jeder Ritt über einen Ozean mit einem kleinen Segelsportboot wird immer etwas besonderes sein und bleiben. Aber Weltumsegelungen im Sinne von Erkundungen waren dies in der Regel nicht. Weil den meisten dieser Reisen der Anspruch fehlte, die Fragestellung, die Bereitschaft zur Erkundung. Und zu Erkunden gäbe es jede Menge:
Wie ist der Zustand vom Prinz-William-Sund in Alaka gut 25 Jahre nach der Ölkatastrophe der Exxon Valdez? Wie navigiert es sich eigentlich durch einen der großen Plastikmüllgebiete der Weltmeere? Wie hoch genau ist die Radioaktivität eigentlich in Widjajewo bei Murmansk auf dem weltweit größten Schiffsfriedhof für Atom-Uboote? Fließt in Fukushima nach dem Unglück von 2011 eigentlich immer noch radioaktiv verseuchtes Wasser ins Meer? Wie viele Menschen sterben täglich am den sogenannten Werften am Strand von Alang am Golf von Khambhat in Indien bei den Abwrackarbeiten von Hochseeschiffen, wie unmenschlich sind die Arbeitsbedingen dort und wer steckt dahinter und wie schwer sind Strand und Hinterland mit Asbest, Schwermetallen, Ölen und anderen giftigen Stoffen vergiftet? Wie genau ist das mit den Flüchtlingsbooten auf dem Mittelmeer und den Frontexschiffen, die diese in den sicheren Tod hinein von den Europäischen Küsten abdrängen? Die legendäre Nordwestpassage, an der einst John Franklin sich vergeblich versuchte, ist sie jetzt schon im Winter eisfrei? Und welche der Südseeparadiese verschwinden gerade von der Landkarte?
Fragen wie diese sind nur ein winziger Bruchteil von dem, wo es sich hinzusehen und hinzufahren lohnen würde. Weltumsegelungen, so meine These, müssten im Zeitalter der Globalierung politischer sein. Oder ökologischer. Nicht, dass sie jemals politisch waren. Slocum war es nicht, Rollo Gebhard, Winfried Erdmann und auch Gudrun Caligaro oder Laura Dekker waren im engeren Sinne nicht politisch- und doch hatte die Art, wie sie es machten und vor allem, unter welchen Umständen sie es machten, jeweils eine politische Wirkung. Beim Segeln über die Voraussetzungen und Folgen des eigenen Tuns nachzudenken und neue Orte, neue Perspektiven zu finden, das wäre im globalen Zeitalter die eigentliche Herausforderung und auch die eigentliche Leistung einer Weltumsegelung.
Ein gutes Beispiel für eine Weltumseglung, die in der globalisierten Welt des 21. Jahrhunderts auch diesen Namen verdient ist die Fahrt die Sailing Conductors. ein Vorhaben von Benjamin Schaschek und Hannes Koch (Käptn und Matrose) unter dem Motto Entdecke das Unerhörte. Die beiden Toningenieure besorgen sich nach Ende des Studiums in Sydney ein Segelboot und wollen 1 Jahr lang Segeln und Musik einsammeln. Aus dem einen Jahr sind 4 ½ geworden und mit Hilfe von Mikrofon, Kamera und Laptop entsteht ein Stück Weltmusik, die Musiker aus unterschiedlichen Regionen und Kontinenten in echten und virtuellen Räumen miteinander verbindet. Ein sehr gutes Beispiel dafür, wie Globalisierung auch laufen könnte: Menschen kommen zusammen, bereichern einander und haben vor allem eins: Viel Spaß!
Zusammenfassung Fazit
Die Druckkosten zu dem im Jahr 2015 erschienen Buch wurden anteilig vom Trans-Ocean e.V. Verein zur Förderung des Hochseesegelns gefördert. Das Buch hat einen Umfang von 364 Seiten und ist im Transcript Verlag Bielefeld erschienen. Der Preis von 29,99 € ist nicht ganz preisgünstig, aber gerade noch verhältnismäßig.
Das Buch ist in 7 Kapitel gegliedert:
1 Kapitel Hinführung, Theorie & Methode
2 Kapitel "Die Vorausfahrenden informieren die Hinterfahrenden"
3 Von See-Touristen, Seevögeln und echten Seglern
4 Vom Abenteuer zum Un-Ruhestand? Zu Kontinuität und Wandel
5 Die Fahrtenyacht als Gefährt(e) und Zuhause
6 Sailing in Solitude, Cruising in Company - Die soziale Praxis
7 Zwischen Traum und Realität: Abenteuer, Ausstieg und Auswanderung
Mein erster Anlauf, dieses Buch zu lesen, scheiterte nach kaum 20 Seiten. Dieser schwurbelige wissenschaftliche Vorlauf zur Klärung der Fragestellung und zur Erläuterung Methodologie - warum muss das immer so dröge sein? Und wer sagt eine*m, dass damit angefangen werden muss? Hier hat der deutschsprachige Wissenschaftsbetrieb erheblichen Nachholbedarf, allein: Ich habe keine Hoffnung mehr. Als ich dann mitten im Buch begann, ging es deutlich besser, wobei dieses Buch seine Längen hat. Muss denn jedem Zitat nochmal eine Beschreibung, eine Nacherzählung des Gesagten folgen? Aber doch: Die Kurzweiligkeit stellt sich ein, weil eben nicht Weltumsegler*innen geschichten erzählt wird, sondern weil die Autorin das Phänomen mal etwas genauer unter die Lupe nimmt und versucht, herauszufinden, was das eigentlich ist, so ein Weltumsegler*in mit Fragen und Sichtweisen, die weit über persönlichlich Törnberichte hinausgehen. Ich wünschte mir mehr Bücher, die in dieser Weise gegen den Strich bürsten.
Das Buch ist sicher eine amüsante Lektüre für alle, die schon etwas gelangweilt sind von den sich ewig ähnelnden Weltumseglungsbüchern a la Gebhard, Piefke, Erdmann und Co. und Lust haben auf eine veränderte Perspektive. Und zum anderen zu empfehlen für alle, die über eine Weltumseglung nachdenken. Denn etweder werden sie es so machen, wie die meisten oder aber eben genau das nicht.
Berlin, 21.01.2016
Stefan Schneider
PS: Ein Film! Ein Dokumentarfilm! Ich möchte einen Dokumentarfilm anregen über die sog. Weltumsegler-Szene. Einen, der die Welt der Weltumsegler so beschreibt, wie sie ist. Sorgen um das Geld, ewiges Basteln am Schiff, nervendes Warten auf besseres Wetter, nicht passende Ersatzteile für defekte Motoren, Streit an Bord, Schwatz mit den Stegnachbarn, Sauf-Eskapaden in den Hafenbars, abfällige Bemerkungen über Einheimische ... eben den ganzen Alltagskram.
Weblinks
Anmerkungen
[1] "Blauwassersegeln ist eine Form des mobilen Lebens auf Segelbooten, bei dem sich lange Törns auf Hochsee fernab von Küsten, Häfen oder Yachthäfen (Marinas) mit Perioden des freien Vor-Anker-Liegens meist in Buchten oder vor Riffen ohne Anbindung an moderne Infrastruktur abwechseln." (Quelle: https://de.wikipedia.org/wiki/Blauwassersegeln)
[2] Ein Schlitzohr dieser Schenk. Er schreibt eben nicht, eine Weltumseglung ist ein Kinderspiel, sondern ... kann zum Kinderspiel werden. Er wird schon wissen, warum.
Fotonachweis
1. Schiffsfriedhof in Frankreich.
Quelle: https://commons.wikimedia.org/wiki/File:Boat_cemetery,_Finistere,_France.jpg,
Urheber: Deep silence (Mikaël Restoux)
2. Detail der Karte des Ortelius 1590: Magellans Schiff Victoria.
Quelle: https://commons.wikimedia.org/wiki/File:Detail_from_a_map_of_Ortelius_-_Magellan's_ship_Victoria.png
3. Green Boots - Dead man on Mount Everest.
Quelle: https://commons.wikimedia.org/wiki/File:Green_Boots.jpg, Urheber: Maxwelljo40
4. Heißluftballon der Brüder Montgolfier 19.10.1783.
Quelle: https://commons.wikimedia.org/wiki/File:Montgolfier_brothers_flight.jpg,
Urheber: Claude-Louis Desrais (1746–1816)
Exkurs: Palmen auf Corn Island.
Quelle: https://commons.wikimedia.org/wiki/File:PalmenCornIslands.jpg,
Urheber: Tabea Huth, Tabea_Huth*at*web.de
5. Sailing Conductors.
Quelle: http://sailingconductors.com/ueber-uns/
Zusammenfassung: Buchcover Martina Kleinert - Weltumsegler 2014.
Quelle: Transcript Verlag
http://www.transcript-verlag.de/media/image/thumbnail/9783837628821_720x720.jpg
Unterkategorien