Abschlusserklärung des ESF in Istanbul
Wir, die TeilnehmerInnen des ESF in Istanbul, bekräftigen, dass wir uns stark engagieren werden gegen jeden Krieg und jede Besatzung und wir sind für eine politische Lösung der Kurdenfrage. Wir haben uns auf die folgende Resolution verständigt:
Arbeiten wir gemeinsam zusammen in Europa gegen die Krise!
Im Rahmen der globalen Krise und angesichts der Offensive der EU, der Regierungen und des IWF (Weltwährungsfond) eine strenge Sparpolitik bzw. eine des sozialen Rückschritts durchzusetzen, haben die im ESF in Istanbul versammelten sozialen Bewegungen einen Aufruf zum gemeinsamen Handeln in Europa herausgegeben.
In ganz Europa bilden sich Mobilisierungen und Widerstandsbewegungen, um diese Maßnahmen in Frage stellen. Auf lange Sicht ist es dringend erforderlich, einen zusammenhängenden Kampf in ganz Europa zu entwickeln, der die sozialen Bewegungen, Gewerkschaften, Verbände, Organisationen, Netzwerke und BürgerInnen zusammenbringt. Deshalb haben wir als ersten Schritt auf dem Weg zur Entwicklung von Mobilisierungen in ganz Europa einen Aufruf für den 29. September und die darum liegenden Tage herausgegeben.
Wir müssen alternative Maßnahmen entwickeln, die uns in die Lage versetzen, dass wir die sozialen Bedürfnisse und ökologischen Anforderungen erfüllen können.
Alle sozialen Bewegungen rufen zu einer europäischen Versammlung am 23./24. Oktober (bzw. 13./14. November) in Paris auf, um die Mobilisierung und Koordination unserer Bewegungen fortzusetzen, sie auszuwerten und über die Zukunft des ESF zu diskutieren.
---
So, langsam füllt sich der Timetable beim ESF in Istanbul, organisiert vor allem vom Netzwerk Reclaiming Spaces:


Am Mittwoch 30.6. geht es ab 18 Uhr los mit einem informellen Treffen und Begrüßungs-Picknick im Fındıklı-Park. Es gibt eine gleichnamige Tram-Haltestalle, zentral am Bosporus in der Nähe von der Mimar Sinan Üniversitesi und der Schiffsanlege-Stelle Kabatas.
---
Am Donnerstag, 1.7. gibt es um 18 Uhr eine Veranstaltung zu "Soziale Wohnungspolitik und ihre Alternativen in der Türkei und weltweit." Da geht es sicher u.a. um die Erfahrungen mit dem autoritären Wohnungsbau von TOKI und anderen (halb)staatlichen Entwicklern in der Türkei. Diese oft strak verdichteten und hohen Eigentumsblocks folgen einem "normalisierten" Stadt- und Lebensmodell folgen, wie es im Fordismus auch bei uns durchgesetzt wurde. Oft werden Selbstbau-Siedlungen und andere Stadtgebiete dafür abgerissen. Und dies stößt auf viele Widerstände. Außerdem geht es sicher um die Situation des sozialen Wohnungsbau in Frankreich, auch um die Banlieus. Und ich werde sicher etwas zu den Auseinandersetzungen um den sozialen Wohnungsbau in Deutschland beitragen können.
Um 21 Uhr gibt es einen Film zu dem Stadtteil Fener-Balat.

Diese Konferenz findet statt bei dem Nachbarschaftsverein Tozkoparan, im Westen. Treffpunkt ist um 16.00 Uhr die Bushaltestelle Nr. 85t am Taksim-Platz
---
Am Freitag, 2.7. um 18 Uhr geht es weiter mit einer Versammlung zum Thema "Selbst-Organisation und partizipatives Budget" im Stadtteil Sariyer, auf der europäsichen Seite weiter im Norden des Bosporus. Treffpunkt ist um 16 Uhr die Bushaltestelle am Taksim.
---
Samstag, 3.7., 9:30 Uhr findet dann unser Seminar beim offiziellen ESF statt: Eine Versammlung verschiedener Gruppen und Bewegungen zu "Das Recht auf die Stadt". Es geht nach den Vorbesprechungen vor allem darum, die Vielfalt neuer Entwicklungen von Stadtkämpfen zusammen zubringen, Strategien zu diskutieren und dem "Recht auf die Stadt" als Slogan eine für uns "richtige" und mobilisierende Bedeutung zu geben.

Die Veranstaltung findet statt auf dem Campus der TU:
İTÜ Maçka Kampüsü, Istanbul,

Für Raum ins ESF-Programm gucken. Bislang findet sich Veranstaltung dort angekündigt als
"How to reclaim our cities, land, housing in a time of crashes?" (Nr. 56)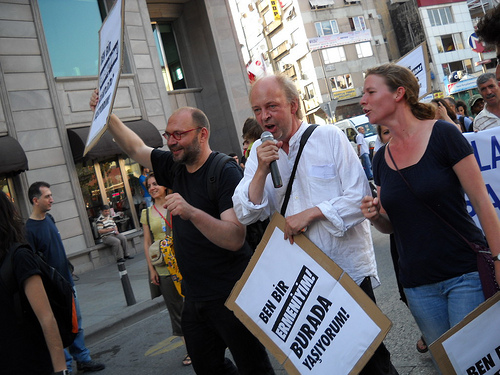 Um 18 Uhr ist die ESF Demo
Anschließend seid bitte um 20 Uhr am Eingang der Metro am Taksim. Wir fahren zu einer "Solidaritätsnacht" mit den Opfern der neoliberalen Stadttransformation.

Neben diesen Veranstaltungen gibt es in den Räumen des Vereins BirUmut www.birumut.org ganz in der Nähe des Taksim-Platzes einen offen Raum für Gespräche, Treffen, Video-Aufführungen und eine kleine Ausstallung zu sozialen Kämpfen in den Städten.
Adresse: İstiklal Cad. Süslüsaksı Sok. No: 9 Taksim
Karte: http://www.birumut.org/iletisim.htm
Das war der Aufruf:
---
CALL FOR EUROPEAN URBAN SOCIAL MOVEMENTS
We, Urban Social Movements in Istanbul, are inviting all the Europe-wide resisting urban social movements and organizations to VI. European Social Forum, with the need and urge to fight together against the ceaseless attacks of capitalism.

We, who are thrown out of our homes and neighbourhoods, kicked out to the streets, whose ecologic values are looted for profit, whose memories are mortgaged, we, as the dispossessed, as the outsiders, that is, the real owners of the cities will be gathering in the European Social Forum which will be held in Istanbul between the 1st and 4th of July. We will be searching the ways to mutualize our problems and to develop organized means of struggle.

We will discuss the future of the endlessly transforming cities and the meaning of this transformation for the dispossessed and oppressed. We will gather to discuss the ways to synchronize the partial resistances in the city centers and slums, to talk about the inseparable destiny of the urban and rural struggles, the possibilities of common local and global struggles and to create a solid action alliance out of our discussions.

Let us get together in seminars, in workshops, at stands and in the actions. Let us gather our voices and raise our cry this time from Istanbul.

more information on:
http://istanbulurbanmovements.wordpress.com/